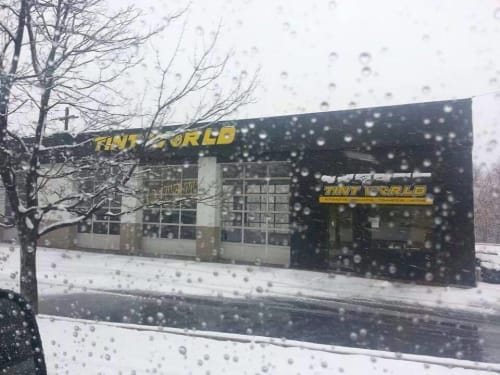 The temperatures have dropped and winter is officially in full force. While this year won't be as cold as last year's epic "polar vortex," everyone should still prep for plenty of cooler weather, rain, and snow. Tint World® is your local source for prepping and protecting your vehicle this year, and we offer a wide variety of products, services, and packages for every need and budget.
Paint Protection Film
Paint protection film—or clear bra—will protect your car's finish from rain, snow, rock salt, sleet, and mud this winter season. Come spring, your car will still be looking as good as it did last year; scratch and scuff free. And if your paint protection film is damaged, Tint World® can easily remove it and re-apply new PPF. It's only a small price to protect one your biggest investments all year long.
Headlight Restoration
All headlights become yellow, discolored, and fogged over time and from prolonged exposure to the sun all spring and summer. When winter rolls around, and the days are shorter, make sure your headlights are operating at maximum performance. Tint World® headlight restoration services restore the clarity of your headlight lenses in less than an hour, making your vehicle safer for both you and other drivers on the road.
Remote Start
If you're definition of winter means snow and ice, a remote start is essential for your vehicle. For those days when your car is covered in ice, warm it up from indoors without stepping out into the cold. A remote start will also save you from having to wait for your car to warm up. Tint World® carries top remote start brands and takes care of everything, from helping you choose the right option for your vehicle, to setup and installation.
Snow Tires
While Tint World® is known for being the expert choice for aftermarket accessories, we also offer a full line of top wheels and tires brands. Snow tires are one of the most important parts of getting your vehicle ready for winter. Stop by your local Tint World® for a great deal on snow tires this winter season, and drive safely on the snowy and icy roads this winter season.
To learn more about how your can prep your car for winter, call or visit your local Tint World® Automotive Styling Centers®!