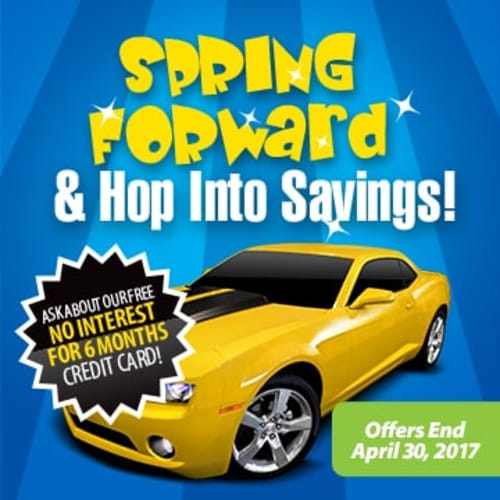 Spring is a time for renewal, and that includes getting your car revved up for the warm-weather cruising season. So polish off that pollen and get on down to your local Tint World® franchise to take advantage of our special April offers through April 30. Your tax refund from Uncle Sam can help you afford some of these classy extras and upgrades. Don't wait, because as Easter approaches, things will be hopping.
'Like' us, and you'll like us more: Get ready to block that spring sun from your eyes with our special tint package. Give us a thumbs-up on Facebook and we'll knock 30 bucks off any automotive tint package. Don't stare through the glare, tint your ride today.
Easter gifts for your peeps: Forget those sweet Easter basket staples and replace the marshmallow chicks with something your other peeps will really love. Hop on down to your nearest Tint World® franchise for gift cards, instead, silly rabbit.
Back it up, and hit the lights: Improve your rear view with a new backup camera – and a DVD receiver to keep your littlest chicks entertained when you are on the road. Our spring seeds of savings include a Pioneer bundle deal for both – installed – for $379.98. The deal includes a built-in Bluetooth; iPod and iPad compatibility; and a 6.2-inch LED-backlighted touch-pad display.
Cover your assets: There's no better deal to secure your vehicle than with a $149 – installed – shock-sensor upgrade to your factory alarm system. The CTP504 shock sensor offers up to $2,500 in content theft protection.
Cool your crib: Window tinting is no longer just for cars, trucks or SUVs. Get 10 percent off residential and commercial window film services in time to save your utility bill from summer's sizzle. This offer includes a FREE in-home estimate.
Get your shine on: Now that winter's gunk is gone from your vehicle, take extra steps to protect your investment and keep your car looking like it pulled off the showroom floor on those upcoming summer road trips with paint and glass protection film.
These offers only apply to the United States unless otherwise noted