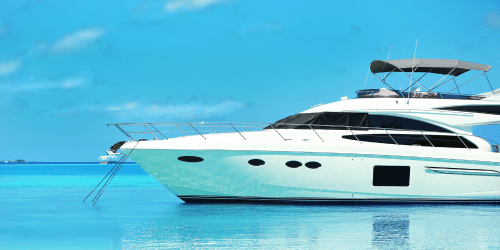 Springtime is here and summer is on the horizon. For boat owners, that means it's time to check out Tint World®'s expert marine styling services!
As the #1 marine styling center since 1982, Tint World® offers everything you need to ensure your vessel is equipped for a full season of fun and sun on the water:
Marine window tinting and protective film: Tint World® marine window tinting provides cool view protection by adding a permanent barrier between your boat's interior and the destructive effects of the sun. Our window films cut down on potentially dangerous UV rays and reduce dangerous glare from the water and lights. In addition, marine window tinting protects high-grade interiors and helps keep them cool and comfortable.
Marine Nano Ceramic Coating: With prolonged hours sitting in the sun and salt water, it's no question that your boat or yacht takes a beating from the elements. On an unprotected vessel, this wear and tear will start to show, but with the ceramic protection that a Tint World® Nano Coating provides, your vessel can stay in like-new condition for years to come. Tint World® protective coatings bond to any vessel surface, providing a very durable, hard, and flexible barrier.
Marine detailing and reconditioning: Whether you're looking to remove stains, or polish up the hull, Tint World® provides everything you need to keep your vessel looking awesome all year long. Tint World® marine detailing services, including wash and shine, wax and sealant protectant, stain removal, wood and gel coat restoration, upholstery restoration, utilize advanced products that protect both the exterior and interior of today's boats, yachts, and marine power sports. And we offer a no-nonsense warranty for all marine detailing services, ensuring peace of mind for years to come.
Marine audio and electronics: Tint World® can upgrade your marine audio and electronics systems, whether you're looking for basic convenience products, safety devices, or just want the coolest toys for your vessel – Tint World® will meet your needs. We offer a full lineup of leading marine audio systems and advanced electronics, including GPS navigation, GPS tracking, Bluetooth, night vision mirrors, backup cameras, and entertainment systems.
Marine lighting: Tint World® offers many marine lighting installation options including sidelights, docking lights, underwater lights, utility lights, transom lights, LED lighting, and more. Our trained lighting experts can assist you with selecting and installing the best lighting for your vessel.
Marine wraps and custom graphics: Let the experts at Tint World® transform your vessel with vinyl wraps that reflect your style or brand. Whether for personal use or business, our marine wrap experts have the material, tools, and equipment to provide you with graphics that make a splash every time you hit the water. Tint World®'s marine graphic and wrap installation technicians are equipped and trained to install boat wraps for vessels of all sizes. Tint World® can stripe it, letter it, flame it, or wrap it, and we can also create and install custom cutout vinyl letters and designs.
We can help you upgrade your vessel with products and services that fit your lifestyle, and Tint World® Marine Styling Centers provide expert installation services in our fully equipped state-of-the-art facilities. Visit the nearest Tint World® location to find out more.