We Only Trust The Best Car Alarm Brands.
Tint World® specializes in car remote starts, security, car alarms, and convenience feature packages for your car, truck, SUV or motorcycle. We offer a full line of world class car remote start, security & car alarms that include today's top brands. Tint World® offers all the latest cutting edge and most advanced technology products available today.
Tint World® has everything you need for professional car alarms including glass break detection, backup battery, flashing parking lights, power trunk release, smartphone convenience, vehicle tilt sensor, remote start, and much more. For expert car alarm and auto security installation, come to Tint World® and rest easy.
Book Now
Get Quote
Car Remote Start & Security Systems
Tint World® offers the best car alarm & remote car start systems from the industry's top manufacturers.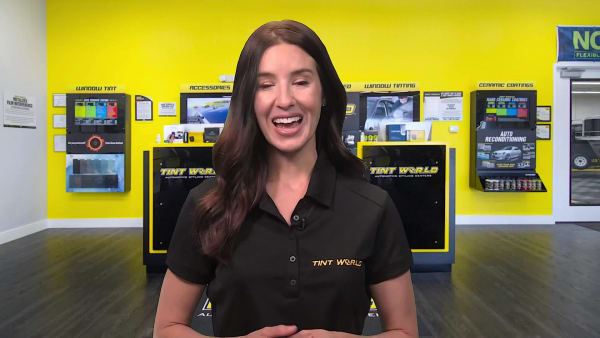 Remote Start & Security Benefits:
World's Bestselling Vehicle Security

Provides Remote Keyless Entry

Provides Remote Start

Provides Smartphone App Technology

Provides Multiple Vehicle Control

Provides Virtually Unlimited Range

Provides Location Tracking Alerts

Provides Vehicle Speed Alerts

Professional Equipped Facilities

Professional Authorized Dealer

Lowers Insurance Fees
Expert Car Alarm Installation Since 1982
Our Vehicle Security Professionals provide Expert Installation services in our fully equipped facilities!
Configure Your System For What You Need
Tint World® offers remote start and all-in-one security systems with optional features to configure what you need!
Lock / Arm:
Press the lock button to arm your security system and lock your doors.
Silence / Horn Mute:
Silences the siren and horn output to eliminate chirps upon lock/unlock.
Trunk Release:
Pop the trunk by holding the trunk button for 2.5 seconds.
Unlock:
Press the unlock button to access your vehicle and unlock your doors.
Valet:
Turns off all alarm and remote start features (if equipped) - also known as service mode.
Shock Sensor:
Receive instant notifications on your LCD remote when your sensors are triggered.
Remote Start:
Get a head start on the weather outside by remote starting your engine.
Turbo Timer:
Keeps engine running for up to 4 minutes upon exiting vehicle (remote start models).
RPS Touch:
Added ability to arm your vehicle without a key, using an electronic touch pad.
Cold / Hot Start:
Set your vehicle to automatically start at a certain time or temperature.
Passive Mode:
Automatically locks / arms 30 seconds after unlock.
Proximity Sensor:
Ideal for convertibles or any application where zone-intrusion protection is desired.
Panic / Car Find:
Activate the siren and horn to locate the vehicle.
2nd Car Operation:
Allows one remote to control two separate vehicles.
Smart Phone:
Control your vehicle from your smart phone via the internet.
MECP Trained & Certified Technicians.
Tint World® mobile electronics technicians are trained and certified by MECP (Mobile Electronics Certified Professionals) to provide the latest car alarm installation techniques factory-suited for security alarms.

Tint World® car security alarm installations are seamlessly integrated with your vehicle electronics system. Our trained and certified car alarm technicians have a strong knowledge of the vehicle wiring and car alarm systems. Tint World® car alarm professionals can help you choose the car security that's right for you.
At Tint World®, We Approach Every Job With 100% White Glove Service.
See what our customers say about us: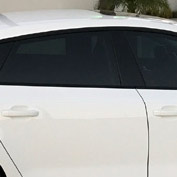 TYSON N.
LOOKS AMAZING!!!
One of the best customer service experiences I've ever had. I had my windows tinted on my truck. The quality is excellent, and the customer service was amazing.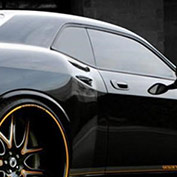 MEGAN A.
GREAT WORK
Great prices and high-quality service. The tint on our Jeep looks amazing! Tint world has so many different things other than just auto tint.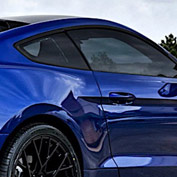 TIFFANY B.
COOL INSIDE & OUT
This is our second vehicle we have had tinted here, and the handiwork is fantastic! Such a big different noticed in our car's temperature and privacy. Excellent work and great prices!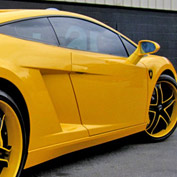 JAKE K.
FLAWLESS
I took my girlfriend's car here to get her windows tinted for her birthday. Solid work and customer service all the way around.
Unbeatable Service.
Amazing Deals.
We always have specials on popular services and products.
Take advantage of the amazing deals today!
View Current Deals!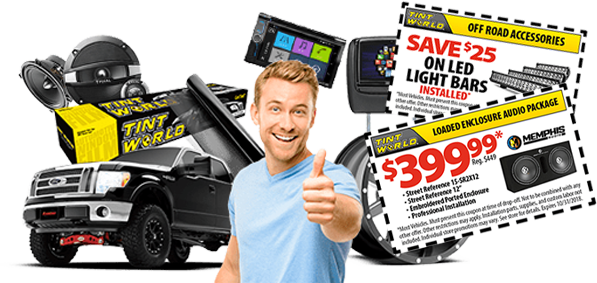 Nothing Says Love Like A Tint World® Gift Card.
We always have specials on popular services and products.
Take advantage of the amazing deals today!
Purchase Today!