Speakers and Car Subwoofers

Car Subwoofer and Speaker Systems
Tint World® offers quality upgrades for your car speakers and car sub woofer systems. See the following speaker and car subwoofer options to be sure your ride delivers the clearest, most powerful sound possible.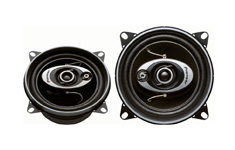 Co-Axel Car Speakers
Co-Axel Car Speakers are a great factory-replacement speaker upgrade.
Component Speaker Systems
Component Speaker Systems are for car audio lovers and consist of separate car woofers, tweeters, and crossovers designed for superior performance.
Tweeters
Tweeters are small high-frequency car speakers that are mounted closer to your ears, so you hear all the details in your music.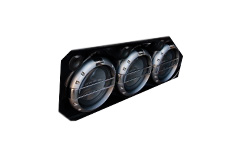 Center Channel Car Speakers
Center Channel Car Speakers improve the clarity of the dialogue in your programs for your in-vehicle video enjoyment.
Powered Car Subwoofers
Powered Car Subwoofers are enclosed and matched at the factory. Powered car subwoofers ensure top performance by taking the guesswork out of adding bass to your vehicle.
Enclosed Car Subwoofers
Enclosed Car Subwoofers combine a matched subwoofer and amplifier in a compatible enclosure. You'll find powered car subwoofers in a variety of sizes. We carry anything from compact, under-the-seat car subwoofers, to larger boxes for trunk or hatchback areas.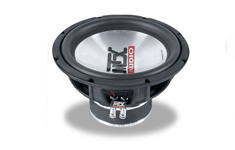 Component Car Subwoofers
Component Car Subwoofers provide powerful, accurate bass in your vehicle with a compatible enclosure. Powered with a suitable amplifier, component car subwoofers bring the music to a whole new dimension in your vehicle.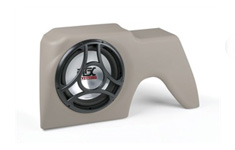 Vehicle-specific Enclosures
Vehicle-Specific Enclosures are preloaded, custom form-fitted car subwoofer enclosures designed to fit into unused spaces in specific vehicles. Many car subwoofers come with built-in amplifiers for an all-in-one bass solution.
---
Looking to up the bass in your car? Contact your local Tint World® for car subwoofer installation questions and pricing.