Tint World® Cumming Automotive paint Coating For Your Ride
Introducing Tint World® Automotive Paint Coatings! Tint World® Nano Coatings are ultra-durable, scratch resistant, water resistant, and super glossy.
Automotive Paint Coatings are the most advanced and latest long-term protective care technology for your vehicle. Once applied and cured, Paint Coatings provide a barrier between your vehicle and environmental conditions, UV rays, and scratches.
Tint World® Paint Coatings can enhance and protect more than just your vehicle's finish. They can also be applied to glass, leather, and plastic surfaces to protect the interior of your vehicle.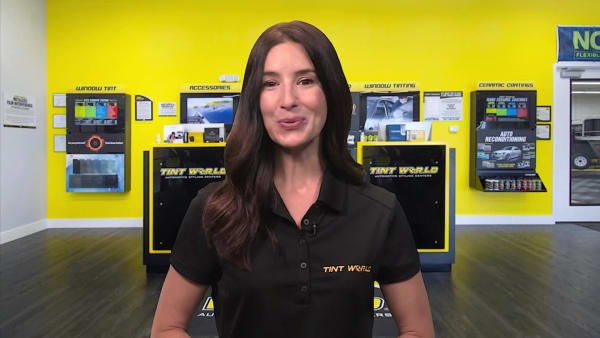 Nano Ceramic Coating Applications
Tint World® Nano protective coatings are perfect for many surface applications including:
Paint Coating
The best non-solvent ceramic auto and marine paint coating in the world. Our eco-friendly paint coating is super-hydrophobic, super glossy, and lasts for many years. With an industry hardness level greater than 9H, our Tint World® nano coatings were meant to last!
Glass Coating
This a very high-tech coating that is especially designed for glass. It repels water and dirt, improving visibility all-round with maximum durability. Our glass window coating can be used on cars, trucks, boats, planes, shower doors, windows, mirrors and any other glass surfaces.
Textile Coating
Our professionals can apply coatings to more than just cars. Our coatings can be used in homes and offices too. Whether you have ceramic tiles, marble, granite, plastic, leather, or even metal, our coatings can be applied nearly anywhere.
Ceramic Coating Packages & Features
Tint World® offers Automotive Ceramic Coating Packages that maximize the protection for your vehicle's surfaces!
| Customize any package to fit your needs. Get a quote or call 800-767-8468 | | | | |
| --- | --- | --- | --- | --- |
| Waterless Wash & Dry | | | | |
| Clay Bar Paint Finish | | | | |
| Light Compound Paint & Polish | | | | |
| Alcohol Wipe Down | | | | |
| Ceramic Base Paint & Trim | | | | |
| Ceramic Top Coat Paint & Trim | - | 1 - Layer | 1 - Layer | 1 - Layer |
| Ceramic Windshield & Glass | - | 1 - Layer | 2 - Layers | 2 - Layers |
| Ceramic Wheel & Caliper | - | 1 - Layer | 2 - Layers | 2 - Layers |
| Interior Cleaner Treatment | - | - | - | |
| Interior Textile Coating | - | - | - | |
| Warranty | 2-Year Warranty | 5-Year Warranty | Lifetime Warranty | Lifetime Warranty |
Tint World® Also Offers Super-Hydrophobic Paint & Surface Protection Coating Benefits
Advanced Protective Care
Tint World Paint Coatings are the latest and most advanced development in long term protective care for your vehicle, home or office. The advanced nano-coating system is resistant to corrosion, abrasion and temperature while providing an incredible level of surface gloss.
Tint World® Nano Coatings
Tint World® Paint Coatings are done using Tint World® Nano Hydrophobic Coatings. Their super-hydrophobic, super glossy, scratch resistant Tint World® Nano coatings are part of a highly advancing nano-coating system that provides superior protection for your vehicle with 2-5 years of dirt repelling and water cleaning capabilities.
Self-Cleaning Properties
Tint World's Paint Coatings are self cleaning. The Tint World® Nano Coating formulation will attract water (hydrophilic) and encapsulate dust or other debris and then the hydrophobic portion will repel the combined dirt and water from the car thereby making it self-cleaning.
Ceramic Protection
Your car is one of your biggest investments, so why not protect it? Professional Automotive Paint Coatings will give your vehicle a lifetime of protection and help to maintain its resale value. Its durability and water resistance will also protect your car from corrosion, oxidation, and extreme temperatures.
Maintenance
With the application of a Tint World® Nano Protective Coating, you will find that less upkeep is needed to maintain a like-new finish and shine on your vehicle. Since Tint World® Nano Paint Coatings are also self-cleaning, the need for regular waxing will become a thing of the past.
Appearance
Not only are vehicle Paint Coatings great for protection and ease of maintenance, they also preserve the gloss and shine of your vehicle. The ultra glossy finish and pristine condition of your vehicle is sure to impress when you're out on the road.
Tint World® Cumming
Store Info:
1810 Buford Hwy, Cumming, GA 30041, USA
Store Hours:
Sun

Closed

Mon

8:00

-

6:00

Tue

8:00

-

6:00

Wed

8:00

-

6:00

Thu

8:00

-

6:00

Fri

8:00

-

6:00

Sat

8:00

-

6:00
Cards Accepted:
---
Tint World® Cumming, Georgia proudly serves the following cities, and the surrounding area:
Alpharetta, Burford, Dawsonville, Johns Creek, Milton, Ball Ground, Gainesville, Duluth, Canton