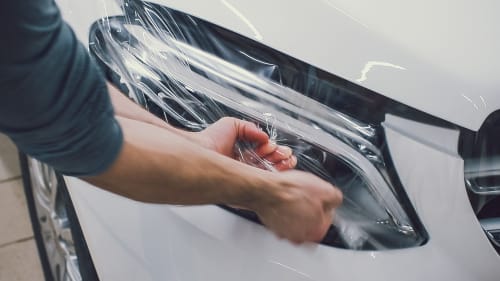 Tint World® Protects Your Investment with These Upgrades
You probably learned this lesson with your first smartphone. Anyone who's dropped a phone or scratched a screen without a case knows that you order a case and screen protector as soon as you upgrade.
So, why don't people do the same thing with a new car? While your phone is safe in your pocket, your car is exposed to environmental debris such as salt, sand, and grit, not to mention dings and scrapes from other vehicles (and the occasional shopping cart). Over time, these elements can take a toll on your vehicle's exterior integrity and resale value.
Taking Care of Your Vehicle
Tint World® has automotive upgrades that will protect your car the same way a case and screen protector prevents damage to your phone. Here are some of the options we offer.
Paint Protection Film: Tint World® Clear-Bra film is the most advanced development in car paint protection. This invisible film is computer-cut for a perfect fit every time, and it shields your paint from road debris and even minor collisions.
Nano Ceramic Coating: Our proprietary coatings protect every surface of your vehicle, from glass and paint to upholstery and interior, even leather! They repel water, dirt and grime and even gives your car an amazing, glossy finish.
Vehicle Wraps and Graphics: Protect your investment and add your own flair to your car with our wraps and graphics. These precision-cut wraps can be removed damage-free, buy while they're on they stand between your car's finish and damage. You can even advertise your business with custom graphics for any vehicle!
If you're ready to give your car the protection it deserves, Tint World® has services and upgrades to fit your needs. Just contact your local Tint World® to find out more.