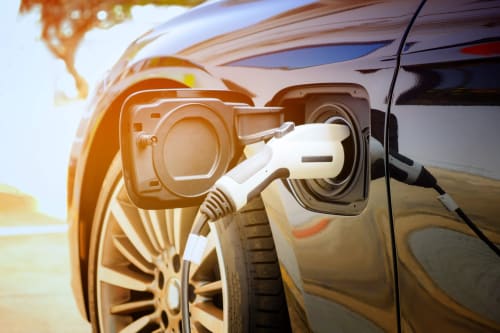 If SEMA 2019 taught the Tint World® team anything, it's that electric vehicles are here to stay and more impressive than we ever imagined. The Ford Mustang Lithium concept car knocked our socks off, and that's just for starters.
More car buyers are going electric and according to Consumer Reports, 233,411 EVs were sold in the U.S. in 2018, compared to just 1,919 in 2010. And the battery life and automotive styling options for these vehicles just keeps getting better.
If you're thinking about going electric, or opting for a plug-in hybrid, here are a few things to consider.
Can You Make It Yours?
If you're anything like us, the first thing you want to do with a new car is make it uniquely yours. While EVs and hybrids have different needs when it comes to aftermarket upgrades, high-quality car audio, video and safety systems are available. And upgrades like paint protection film and Nano Ceramic Coating will help protect your investment. Or, you can opt for full and partial vinyl wraps to make your new EV or hybrid your own!
Will It Go as Far as You Need?
Everyone's driving needs are different. Are you a single-car family? How long is your commute? Do you go on long car trips? All of these are issues to factor in when you're considering an electric vehicle.
The distance an EV can go on a single charge is improving every year, with newer models topping out at 200 miles. But driving conditions can impact that mileage. Hilly terrain can suck battery life from your EV, as can using the heat or A/C.
If you regularly drive long distances, it might be best to go with a plug-in hybrid, which can go 400-550 miles with electric and gasoline combined.
Where Will You Charge It?
While many employers, businesses and municipalities have started providing EV charging stations, people who live in more rural areas might have a hard time getting a charge anyplace but home. And if you're going to charge at home, you have to ensure that you have a parking space and an outlet with enough juice to charge your car. Be sure to figure out the details before you take the plunge. If you're looking for an expert to outfit your new EV or plug-in hybrid in style, your local Tint World® has the know-how to upgrade these vehicles to suit your taste. Just visit the Tint World® website to find the location nearest you.