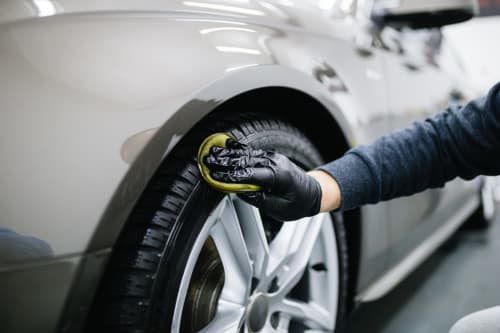 Spoiler Alert – It's About More Than Looks
We get it, not everyone is car obsessed and there are various preferences when it comes to automotive maintenance. Some prefer that "new car" look year-round, while other folks are happy with a quick rinse every few months as long as their vehicles gets them from point A to point B.
But did you know that auto detailing has more benefits than just looks? And, did you know that services like Paint Protection Film and Nano Ceramic Coating aren't just cosmetic? Running your car through the drive-through car wash once a month just doesn't cut it if you're looking to protect your investment and minimize damage.
Here are five major reasons to schedule regular automotive detailing with your local Tint World®:
1. Safer Driving
The biggest concern when it comes to driving is safety, and a driver with better visibility is a safer driver. Over time, micro-scratches caused by dirt and debris develop on your car's windows, windshield and headlights, lowering visibility especially when driving in rain or darkness. Getting your car detailed can keep micro-scratches at bay and your windows free of dirt, and debris.
2. Bust the Rust
A thorough detailing includes your car's undercarriage, an often overlooked but vital part of your vehicle's maintenance. Especially if you live in a high corrosion area, getting your car detailed can put the brakes on rust slowly eating away at the metal underpinnings of your car. This means your car will last longer and run better.
3. Protect Your Paint
Your vehicle's paint is also at risk from corrosive elements like salt and micro-scratches from dirt and road debris. Without thorough cleaning, waxing or other protective coatings, your car's finish will lose its shine and eventually wear away altogether, giving way to rust, swirl marks, etc.
4. What's That Smell?
Have you ever gotten in a car and wanted to get right back out again? Whether it's foul odors or just dirty surroundings, a car that's gone too long without a deep interior cleaning is just not a pleasant place to be. Detailing freshens the whole car, making every ride a pleasant one.
5. Boost Your Resale Value
Whether you're planning on a private sale or a trade-in, getting your car detailed regularly will improve your vehicle's resale value. There's a world of difference, cosmetically and functionally, between a well-maintained and detailed vehicle versus one that's gotten a wash every now and then. That difference will translate into dollars when it's time to sell.
At Tint World®, we pride ourselves on our detailing services. Our professional detailers use the highest-quality products and techniques to get the best results for every vehicle. To schedule your appointment, contact your local Tint World® today.