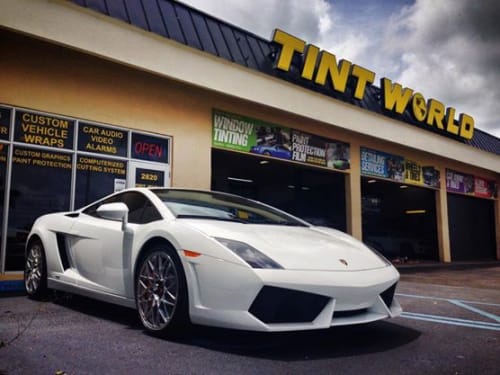 One of the easiest and most cost effective ways to improve your satisfaction with your vehicle is to upgrade its looks. There are many options for aftermarket customization, but today we will highlight five simple options for you to make your car both unique and stylish.
Window Tinting – Car window tinting is a great way to improve the looks and comfort of your vehicle. Your vehicle's window tint can make a powerful statement, yet it is a simple and relatively inexpensive modification to make. Also, if the installation job is done expertly, it can even improve the value of your vehicle. Window tinting does more than give your car a stylish look, however. A quality window tint will also keep the interior of your car cool and protect your car's interior by blocking damaging rays from the sun. Visit your local Tint World® and let one of our knowledgeable staff members help you decide which window tint is right for you. Also, be certain to review our website for window tint regulations.
Wraps and Graphics – Vehicle wraps are generally used for advertising on work trucks and vans, but they can also be utilized to add style to your personal car. Tint World®'s expert team of designers can work with you to bring your ideas to life and make your ride look exactly how you have dreamed. An added benefit of using wraps to customize your car is that if you decide later to change its look, they can be removed damage free, unlike expensive paint jobs.
Headlight and Taillight Film – Often overlooked when customizing a vehicle, your headlights offer you a great way to make a statement. Colored headlight and taillight film will give your ride a unique look that will help you stand out on the road. Tint World® offers film in blue, yellow and smoke colors that can make a subtle, yet powerful alteration to your car. An added bonus is that Tint World®'s headlight and taillight film will also protect your car's lenses.
Custom Lighting – Ready to take an even bolder step with your car's lighting? Custom lighting could be exactly what you are looking for. Halo lighting around your headlights can add a stylish touch to your ride and even complement your car's color scheme. If you want to go even further with your car's look, LED underglow lighting will help you stand out from any crowd. If you want to learn more about your choices with custom lighting, talk to one of Tint World®'s installation experts about what could be right for you and your ride.
Rear Window Graphics – While you may not think about it much, half of the drivers on the road will be looking at the rear end of your car. Adding graphics to the rear window will allow you to make a strong statement to those drivers. Tint World®'s fully customizable graphics are installed as a one-way film, meaning that you can see out, but prying eyes will only see your great design.
If you have any questions about the many ways available to change the look of your ride, or for more information, contact your local Tint World® today.