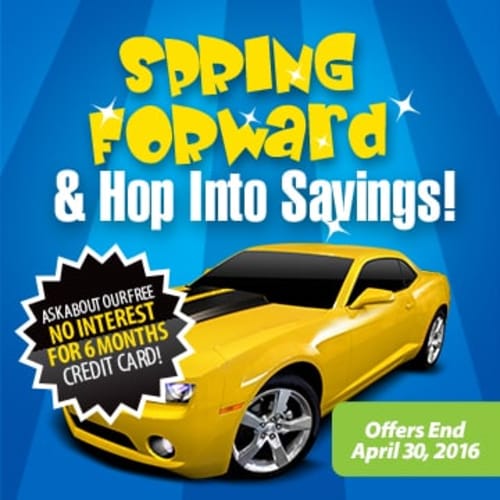 If you're ready to get your spring in gear and start customizing your ride, it's time to check out Tint World®'s April specials. Now until April 30th, we're offering great deals on automotive styling upgrades that will make you bounce around with excitement!
Here's what to look for during the Tint World® Spring Forward & Hop Into Savings Event:
Window Tint Package Savings! If you want to lower the glare and keep cool this spring, hop into your local Tint World® to get $30 off any window tint package, including our Ultimate package with exclusive 2-ply Nano-Carbon XP™ Film that provides 80 percent infrared heat and 99 percent UV ray rejection.
Gift Cards! Wondering what to get that perfect someone who always wants their car to look new? Gift cards from Tint World® are perfect for the car lover in your life, allowing them to pick the items that they want. No matter the amount, Tint World®'s gift cards are always a great idea!
Buy One, Get One Free Economy Detail Package! What's better than getting someone an economy detail package from Tint World®? How about getting one for yourself or someone else? During Tint World®'s Spring Forward & Hop Into Savings event, buy one economy detail package and get one free, a savings of $19.99. Keep it for yourself, or give it one someone else … either way, it is smart money!
Off-Road Accessories! April showers means it is time to take your vehicle in the mud! Outfit your ride with light bars, bed liners, side rails, or anything else from our entire line of off-road accessories and take up to 15% off during Tint World®'s Spring Forward & Hop Into Savings Event!
Residential & Commercial Window Film Services! Spring means the weather is about to get warmer, so keep your home or office cooler this summer when you add Tint World®'s Window Film to your building. Get a free in-home estimate from Tint World®'s professional installers and take an additional 10 percent off our residential and commercial window film services till the end of April. Do yourself a favor later when you add our residential & commercial film products today!
Save Some Green! With tax season done, protect your vehicle investment by taking advantage of Tint World®'s paint and glass protection film. Stop the scratches and chill on chips when you add our Paint and Glass protection film to keep your vehicle looking showroom new!
If you're ready to hop to it and save this spring, stop by your local Tint World® Automotive Styling Center™ to get great deals on these exclusive upgrades during the Spring Forward and Hop Into Savings event until April 30th from Tint World®!