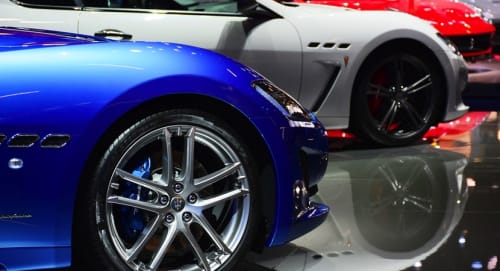 Car dealers know having a fleet of attractive vehicles can attract customers. Bad weather, test drives and customer use can limit the curb appeal. Older used vehicles that are missing the options that customers want can sit on your lot for extended periods, making them harder to move. If you are having these issues with your inventory, the automotive professionals at Tint World® can help you sell more.
How can we accomplish this for you? Tint World® offers a wide array of services for your vehicle fleets, including:
Tint World® fleet detailing:
Our commercial fleet detailing services offer fast, professional service with competitive pricing to make your vehicles look good as new. We can detail your stock to offer showroom luster to your inventory to make them shine. Our reconditioning services can correct any blemishes to drive top-dollar prices.
Window tinting:
As the No. 1 car window-tinting installation center for more than 30 years, Tint World® can add window tinting to any car, truck, van or SUV. Our professional installers will add computer-cut tint to your vehicles to enhance their sales value while minimizing any risk of a subpar tinting job. We can also add clear paint protection films to your vehicles for an extra layer of protection.
Added features:
If your used cars are not moving because they lack the features customers want, Tint World® can help. We can install audio and video systems, satellite radio, Bluetooth and smartphone accessibility, HID and sports lighting and a host of other features to increase the value of your used vehicles.
Having the professionals at Tint World® update your stock makes great business sense for your dealership. For more information on the commercial fleet detailing options available to drive higher volume of vehicle sales at your lot, contact your local Tint World® Center and ask about our commercial fleet detailing options today.