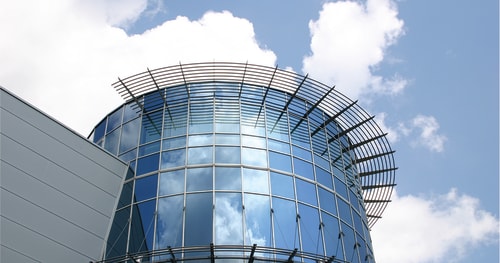 Did you know that the average person spends one third of their life at work? That's 90,000 hours over the course of a lifetime.
That's why it's so important for employers to ensure that their workplaces are safe and healthy. Your employees are your business's greatest asset, and taking care of them isn't just the right thing to do — it's a smart business move, too.
While you're probably taking good care of air quality and building security, have you considered that your windows might also be safety concerns? Commercial window tint and security film can address those concerns, and Tint World® has the right applications for your space.
Here are a few of the benefits of commercial window film.
UV Protection
Everyone knows to wear sunscreen when they're in the great outdoors, but cancer-causing UV rays can reach your employees inside, too. Solar window film blocks 99% of UV rays, protecting your employees and increasing energy-efficiency in your building. It also reduces glare that causes eye strain and lowers employee productivity.
Increased Privacy
There are plenty of reasons to keep prying eyes out of your commercial building. Employees may enjoy unobstructed views while they're working, but the public shouldn't be able to see inside. Commercial window film can block the view into your building from outside while keeping the view from inside out. Your employees will be able to work in privacy and exit the building with peace of mind.
Keep Intruders Out
Building security is important to workplace peace of mind, and unprotected window glass is an easy way for intruders to get inside. Office security window film strengthens the glass, holding pieces together instead of shattering if someone tries to break in. It also keeps your employees safe from flying glass shards in case of a natural emergency.
If you're interested in making your commercial space safer and healthier, Tint World® can help. We have a variety of commercial window tint and film applications that can be tailored to your needs. Just contact your local Tint World® today to find out more.