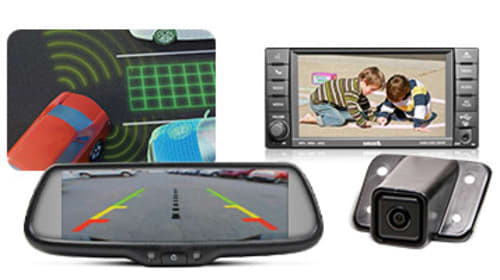 While we never want to think the worst, driving can be a perilous endeavor. That's why automakers have been working hard to build new features that help enhance the driving experience and give greater peace of mind regarding safety. New features can now let you know when another vehicle is in your blind spot, help you see clearer when backing in or out, warn you of lane departures, and more.
But what if your vehicle didn't come with some of these new bells and whistles?
We have great news for you! With Tint World®'s custom aftermarket installation services, you can upgrade your vehicle to include all of these modern features – often for much less than the dealer or manufacturer! We've got you covered for every situation, from backup cameras to crash avoidance systems.
A backup camera may seem like a frill at first. After all, all cars come with rearview mirrors. But backup cameras are a massive safety upgrade for you, your passengers, and even people outside your vehicle. When combined with blind-spot detection or radar systems, these cameras can alert you to oncoming traffic you might not see as you're backing out or in the adjacent lane on the road. They can also help you see pedestrians who might be in your path, and avoid backing over any bicycles or skateboards that might "accidentally" be left in your driveway.
Dashcams also provide a layer of safety for your driving. When combined with crash detection systems, these cameras can log precisely what happens in the unfortunate event of an accident, potentially saving you thousands of dollars in damages or insurance fees and also supplying key evidence in certain situations.
Tint World® is the one-stop shop for any aftermarket needs – especially when it comes to driver safety! Our highly trained technicians will help you choose the right cameras and accessories and provide a custom setup that's exactly what you're looking for. Don't forget to check out our car audio upgrades while you're at it!
Did we mention – we also back up all of our work with a satisfaction guarantee? Find your local Tint World® Automotive Styling Center™ to request a quote or book an appointment today!