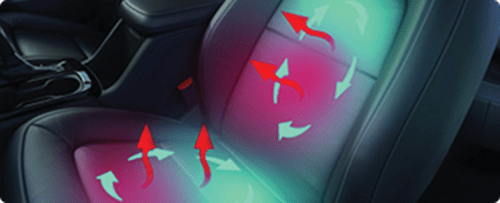 The weather outside is frightful, but you have to drive in it anyway, so you might as well make the ride delightful.
Here's an upgrade that will make you say, "Ooooh!" – why not treat yourself to cozy heated leather seats this winter?
That's right! Tint World® does so much more than window tint. We also offer a complete line of tailor-made custom leather interiors by Alea Leather, which have been designing and manufacturing custom interiors over 25 years. Although their name might not sound familiar, their premium quality leather craftsmanship is commonly featured in some of the most popular cars and trucks on the road today.
Like Tint World®, Alea is committed to offering unparalleled quality and style in every product. Alea combines traditional craft with innovative technologies and unparalleled design. Not only do all of those leather interiors look great, every single one meets or exceeds all applicable Federal Motor Vehicle Safety Standards. Our products also achieve OEM level fitment, so you can rest assured that every detail will be perfect. Your vehicle will look like it just rolled off the factory floor!
But what's the only thing better than custom-made, Grade "A" Italian leather seats? How about  adding custom heating and cooling systems to your new leather seats, so you're always perfectly comfortable year-round? These high-tech units feature the same carbon fiber cores for rapid heating, and five levels of both heating and cooling power, just like major OEMs worldwide.
As always, installations are performed by some of the best professionals in the business. Our highly trained staff of installation experts will treat your vehicle like it's their own. From the selection process through the final round of quality control, our experts are with you every step of the way so you can buy with complete peace of mind that you're getting exactly what you want. We also stand behind our work with a satisfaction guarantee!
Thinking about upgrading your vehicle's interior or going all-in with Heated/Cooled seats? Stop by your local Tint World® Automotive Styling Center™ or book an appointment online today!