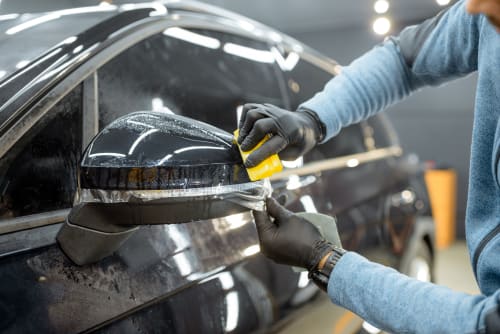 Old Man Winter can sure take a toll on a vehicle's paint job. De-icing salt, road grime, and harsh weather conditions are a recipe for disaster when it comes to your vehicle's exterior. The cold weather season can leave us all with dulled paint, scratches, dings, and, worst of all, the tell-tale signs of rust.
But Tint World® has good news! With custom paint protection film, you can protect your vehicle from the effects of winter ice and snow, working as an invisible shield against the winter weather, road salt, and more. This space-age, high-tech material offers protection from anything Old Man Winter can throw at it!
Tint World®'s paint protection film offers ultimate protection against nicks and dings all year round with extreme scratch resistance. Best of all, it can self-heal from minor damage, helping to preserve your look for years to come. Our paint protection film also repels stains, so you don't have to worry about read de-icers ruining your vehicle's gorgeous exterior.
If you're looking for the ultimate level of vehicle protection, consider applying a protective layer of our revolutionary nano ceramic coating on top of the protection film. This technologically advanced liquid polymer extends the life of your film further and protects from stains or corrosion, a considerable advantage during the harsh winter months.
Tint World® paint protection films also come with a nationwide manufacturer's warranty so that you can buy knowing your investment is well-protected. Our custom packages mean there is an option for every budget. Give us a call or book an appointment online now to get the peace of mind that comes from knowing your vehicle is ready for anything on the road this winter.