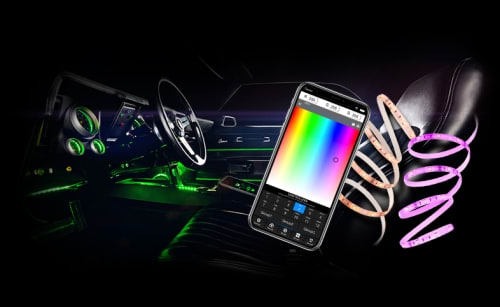 Help make the dark days of winter a little (or a lot!) brighter with accessory lighting from Tint World®. Whether you're looking for upgraded headlights to further light your way, or mood lighting that makes drive time more magical, Tint World® is here to help!
At Tint World®, our expert technicians can help you find the perfect custom lighting setup to suit your needs. Remember that lighting products can add to a vehicle's style while further-enhancing its safety. When visiting one of our Automotive Styling Centers™, know that you're always getting the highest quality products from the most trusted names in the industry.
With limitless custom lighting options, the possibilities really are endless! Consider a unique touch like ghost lighting that displays your vehicle's emblem every time you open your car door. Or take styling to the next level with exterior LEDs and halo lights for a distinctive look that's sure to turn heads!
For something a bit more practical, we have everything to make you shine bright! From headlight upgrade kits, parking and taillight assemblies, to fog lamps and off-road lights to give you visibility whenever and wherever you need it most.
Our service doesn't end with the sale, either. We also offer professional installation on any products we sell! Our highly trained staff treats every vehicle like it was their own, so you know you're always in good hands. Plus, we stand behind everything we sell with our satisfaction guarantee.
So, whether you're looking for some cool interior lights that work with your car audio system, or a new set of headlamps to see further and drive safer, Tint World® is your one-stop shop for all your vehicle lighting needs. Give us a call or book an appointment online today!