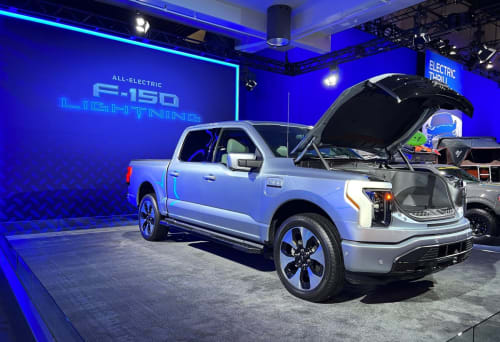 Are you keeping up with the new vehicles that are slated for release in 2022? We've been watching closely, and we came up with this Top Five list of the ones we're most excited about.
No. 5
Tesla Roadster – We've been waiting on this one for a while, and it looks like 2022 will finally be the year that the Tesla Roadster comes to fruition. The four-seater supercar has a removable hard-top and tons of torque. With a stunningly impressive sub-two-second 0-60 time and a 250 mile-per-hour top speed, this beauty is going to make waves – or at least a mean Doppler effect as it whizzes by. Tesla claims the Roadster will be the fastest car in the world when launched.
No. 4
Tesla Cybertruck – After a rocky start with both the launch announcement and initial production, this one will finally happen in 2022. Yes, it looks like this thing belongs on Mars, but it happens to be an absolute monster on terra firma (that's "dry land" for those of you who need to brush up on your Latin)! A triple motor system offers supercar performance with a 0-60 time of under 3 seconds. That's right. This "truck" is faster than a Lamborghini Huracan.
No. 3
Electric Range Rover – Cue up that Martha Griffiths hit because it's electric! Land Rover essentially created the luxury SUV market. In 2022, they are hoping to pave new ground as they venture into the electric car market for the first time. Given Range Rover's history of success, we're betting other manufacturers will follow suit.
No. 2
Aston Martin Valhalla – Just in time for the new James Bond movie, Aston Martin is releasing their new supercar, the Valhalla. It rivals the Ferrari SF-90 for raw power. It's equipped with an AMG 4-liter twin-turbo V8 plus two additional electric motors. Mercy, that's a lot of horsepower and, frankly, torque overkill. Prices start at $800k, and there will only be 999 made, so unless you've achieved double-oh status, you probably won't be getting your hands on one of these.
No. 1
Ford F-150 Lightning – It looks like Ford was feeling a little pressure from Tesla's Cybertruck. The result is this massively impressive truck to be released next year. It's an all-electric generator on wheels. This beast can power a home for up to three days–up to 10 days with power rationing. It also has an 80-amp charge station, 11 120v outlets throughout, hands-free driving—the thing we like best, though, is that you can use your phone as your key.
That's our top five for most anticipated vehicles coming next year. But honestly, your vehicle can be just as drool-worthy with a few well-placed upgrades like window tint, paint protection film or custom vehicle wraps and graphics from Tint World®.
Find your local automotive styling center today to learn how we can help you level up your vehicle!