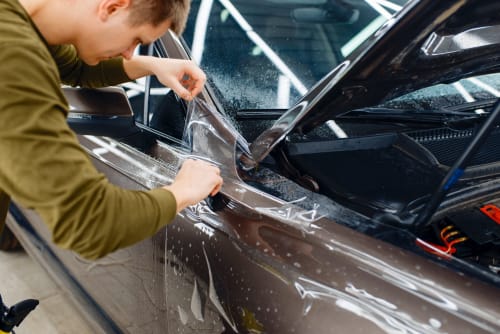 The weather has been crazy lately, and Old Man Winter is rearing his head. It's been snowing more, which means more salt brine, mud, muck, and rocks on the roads, wreaking havoc on your vehicle. Those pesky elements make driving in winter weather even more anxiety-inducing. But we have a secret for the single best thing you can do to keep your vehicle looking new this winter: Paint Protection Film from Tint World®.
Here are just a few reasons why:
Protect your flawless finish. It's winter, so say hello to snow and muddy, rocky slush! Our paint protection film can protect the entire body or just high-impact areas. It is virtually undetectable and is designed to protect against impact damage from everyday road hazards.
Enhance your style. Whether you choose a high gloss or matte finish film, either will protect your vehicle from scratches and chips. Our films complement your vehicle's factory finish and make everything look cleaner and sharper.
Add hydro resistance. Our paint protection films help repel water, so all that dirty snow slide right off your vehicle more easily as you're driving — so you can worry about it less often, especially in the cold before your start your commute.
Achieve stain resistance. Repel salt (we're looking at you salt brine, a.k.a magnesium chloride), bug guts, bird poop, and any other road debris out there. Say goodbye to stains and hello to peace of mind!
Enjoy self-healing technology. No need to worry about the protection film looking terrible anytime soon: it self-heals both scratches and swirl marks to keep your vehicle looking new for longer.
Increase your vehicle's resale value. By protecting the original paint and body from scratches, dings, and corrosion, you'll retain more resale value. That's like putting money in your pocket.
Best of all, our paint protection film is computer-cut for a precision fit, and, it comes with our signature nationwide lifetime limited warranty. You can't go wrong with this product! And, like everything we do at Tint World®, you can count on top-notch service every time. Our highly trained and certified technicians always take care of your vehicle, just like it was their own.
For more information about paint protection film for your vehicle, just contact your local Tint World® today!