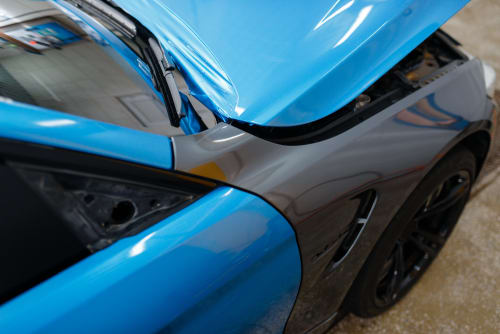 The holidays are quickly approaching. You've shopped for all your friends and family. The presents are wrapped and waiting to make their appearance at holiday celebrations. Now it's time to decide what you're going to give yourself this year.
Maybe you're tired of your vehicle and considering trading it in for a newer model. That's a lot of money to spend, and supply chain issues and vehicle shortages have made it harder to find the vehicle you want, at a reasonable price.
Perhaps you think a new paint job would refresh your vehicle's look. But what color? And, once the paint is applied, you're stuck with that color forever, so you'd better like it, right? Ugh, decisions, decisions!
Although…maybe there's an even better idea. How about getting your vehicle wrapped…as a present for yourself?
From custom vinyl wraps and graphics to Nano Ceramic Coatings, technology and products have become so advanced that you now have endless possibilities for sprucing up your vehicle!
Have we piqued your interest? Let's talk more about some of the options you can choose.
The first and most popular option is to change the color of your vehicle. If that champagne finish just isn't spicy enough for you anymore, it's time to go for something bold and beautiful. New year, new you! So, choose any color you want, like bright metallic red or a brilliant matte white – just like Santa's sleigh.
You can also choose from dozens of texture options like carbon fiber, brushed metal, wood grain, maybe even some fur like Dasher and Dancer.
Or, you can change things up big time with graphics. We've all seen those advertisements people drive around in but 'tis the season for something different and wild. Maybe your favorite movie is "Christmas Vacation," and you want the whole Griswold family's smiling faces on the hood of your vehicle. If you can dream it, we can do it!
Tint World® has you covered for any changes you're ready to make to your vehicle. Our high-tech computer-based design and wrap cutting system will give you the style and custom fit you want. Don't forget to upgrade your car audio system while you're at it.
Reach out to your local Tint World® today to find out how to make your sleigh something special this holiday season.