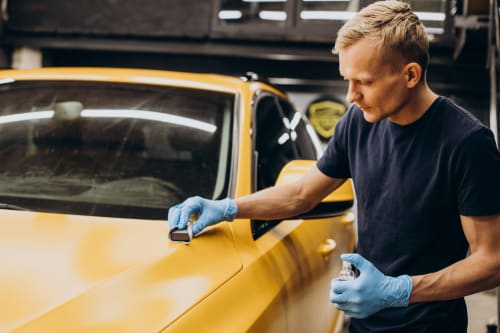 If you were to ask us to choose one Tint World® product that does it all, we'd pick Nano Ceramic Coating.
Our lawyers tell us we can't use phrases like "magic miracle product" when we talk about Nano Ceramic Coating, so we'll just say it's … amazing. It works on everything! Most people use it to protect their vehicles, boats, bikes, and power sports from scratches, road and environmental debris, UV damage, oxidation, and acid rain – just to name a few.
But did you know that you can even use it in your kitchen? We told you it's amazing! Here's how our Nano Ceramic Coating can help transform your kitchen.
So, you've built your dream home and within that dream home is your dream kitchen. You've meticulously worked with your architect and interior designer to get the perfect layout, design aesthetic, and the best appliances your money can buy. Luxury is your middle name, and your new pride and joy is that subzero dual-sided refrigerator. What better way to protect that expensive investment – and give it a super glossy finish! – than with our Nano Ceramic Coating?
Nano Ceramic Coating's 9H hardness can be applied to glass, plastic, metals, chrome, vinyl graphics, fiberglass, carbon fiber, and leather surfaces. It protects against scratches and provides a barrier between your luxury appliances…and Suzy's acrylic paint or Bobby's baseball. It repels dirt, protects against corrosion, and it even withstands extreme heat up to 1400 degrees. Plus, you get the added benefit of a lifetime warranty.
That's right. Lifetime. (Again, we told you this product is amazing.)
So, if you want to make your precious kitchen appliances, or even your fancy leather sofas, life-proof, then you'll want to head to your local Tint World® location and talk to our specialists. We have four packages to choose from and maintenance packages to keep your coating in tip-top shape.
Click here to learn more today!