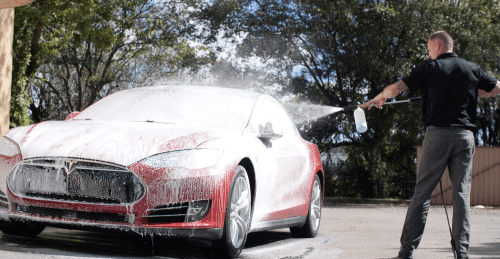 We've all had that moment when we get in the vehicle and wonder, "What happened?"
That new vehicle smell is gone, replaced by the stench of stale French fries and cold pizza. There are food crumbs in the dash, all over the back seat, and in the carpet. What is that sticky substance on the backseat? Chewing gum? A Lollipop? The outside isn't looking too great either. There's mud, muck, and mysterious goop! This isn't how you planned to treat your vehicle.
We get it. Between work commutes, children eating in the vehicle, and bad weather – it's hard to keep your vehicle clean and looking new. That's why Tint World® is here to bring back that brand new car feeling!
At Tint World®, our auto detailing services use the most advanced technology of proprietary formulated products that will protect the interior and exterior of your vehicle. Applications such as Liquid Glass, Leather Shield, or Fabric Shield can help easily maintain the upkeep on your vehicle, making those pesky food stains on the back seat easier to clean up. Plus, we provide a warranty for all vehicle detailing services to ensure complete peace of mind for years to come.
In addition to the cosmetic ways to keep your vehicle squeaky clean, there are health benefits, too:
Reduce Germs and Allergies: Getting your vehicle detailed regularly can help reduce germs and allergens inside the vehicle, making a healthier daily commute.
Boost Your State-of-Mind: Maintaining a clean vehicle is one less thing to worry about and having a clean environment can improve your overall mental happiness. Who doesn't love getting that Zen feeling when they sit back in their cleansed vehicle? Plus, with our best-in-class applications, you no longer have to worry about nasty spills or messes.
Whether you're looking to get an economy service or go all out with our ultimate package, Tint World® provides the best auto detailing services to get your vehicle looking and smelling new again. Don't forget to check out Paint Protection Film or Nano Ceramic Coating to protect your vehicle's exterior, too!
Book online or visit your local Tint World® location today to make your vehicle factory fresh again.