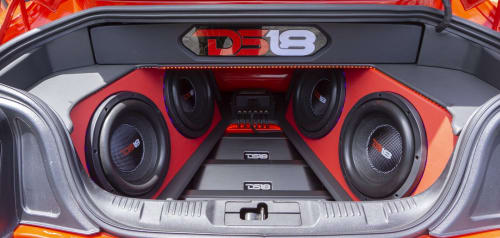 You've probably been eyeing audio upgrades for a while. We know how it is. Your factory sound system just isn't cutting for you, and you want to put some punch into your speakers. Whatever your heart desires, Tint World® can help you achieve it with our audio upgrade services.
With certified, highly trained technicians and the widest selection of all the latest, top-quality products from the most recognized brands in the industry, we're here to make your audio dreams a reality.
Tint World® offers a complete line of car audio products that will make heads turn when you drive by. Here are just a few of the upgrades our technicians can help you with:
In-dash receivers: These bad boys can provide the tech upgrades you've been looking for to pair with your iPhone or Android using Apple CarPlay™ and Android Auto™. These devices also improve sound quality by adding HD Radio and SiriusXM Satellite Radio.
Amplifiers and Equalizers: Be loud and proud! Our head unit upgrades will make your stereo's sound cut through with crisp highs and rumbly lows. Create the perfect EQ with our extensive list of products.
Speakers, Tweeters, and Subwoofers: Want more boost in your bass? These are probably the most essential things to upgrade in your vehicle to get that dream stereo sound you've always wanted!
Encasements: Your subwoofers need to look on point. We can make them compact, put them under your seat, or build large boxes in the trunk or hatchback area to put your sound on display.
Need a little more than just audio upgrades? We've got video options too! If you can imagine it, we can help you build it in your vehicle. At Tint World®, you get the best products, service, and installations – all at the best price. Visit your local Tint World® location today to get your vehicle boosted.