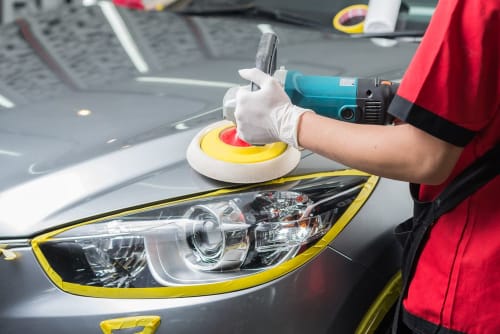 If you are considering purchasing a new car and trading in your old vehicle, you can enhance the value of your existing ride when you take the time to detail your car before visiting a dealer. While you may be able to do some detailing yourself, using the auto detailing services that are available from TintWorld® can help you get the most out of your trade in.
Detailing your vehicle before heading to a dealership to make a deal means more than just washing and vacuuming out your vehicle. According to KBB.com, having a professional detailing job is extremely valuable in maximizing the value of your vehicle before heading to a showroom. Increase your potential value by engaging in the following services: Fix the Dents and Dings: If your car has more than four or five dings, using a professional service like those available at TintWorld® to fix your dents and dings will help drive up the resale value of your ride.
Paint Touch-Up and Scratches: Just like dents and dings, touching up the paint and scratches on your car will help maximize your resale value. Many dealerships are looking for blemishes on a vehicle that is being traded in and having the paint touched up and scratches filled in can help drive your value higher.
Attention to Detail: Having a professional detail your vehicle to bring it up to showroom style condition can help your vehicle make a great impression at trade in time. Detailing can help drive value when done to completely clean and polish the inside and outside of your vehicle to show the care and attention that was paid to your vehicle!
Fix what you can: If you have a broken headlight or a chipped windshield, taking the time to have these items fixed can be extremely helpful when you bring your car to a dealership. Taking the time to fix minor items can drive value at a dealership.
Bringing new life to your vehicle doesn't have to occur only when you are thinking about trading in your existing ride. If you are interested in keeping your existing vehicle looking brand new, the complete auto detailing services available from TintWorld® can help make your car, truck, SUV or van looking great each and every day. To learn more about the auto detailing services that have to offer, contact your local Tint World® today.