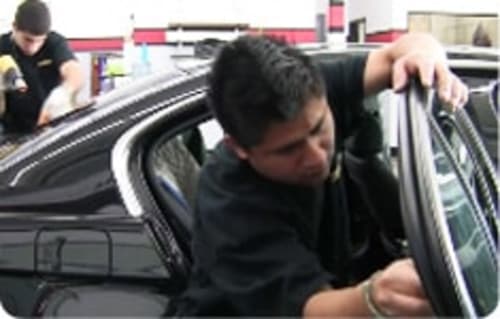 Vehicles can be hefty investments so the ultimate goal for many car owners is to extend the longevity of their car and really get the most out of it. A well maintained vehicle will not only last longer and run better, but it will also keep its value—an important note for those considering selling their car. Whether it's a monthly detail to keep everything clean and fresh or it's a simple add-on like window tint (which not only adds style to a car but also protects the interior), Tint World® products and services help you care for your vehicle.
Proper car maintenance is essential to getting the most of your vehicle. We're not just talking about a wash and wax here, Tint World®'s detailing services is an in-depth process that not only cleans but also restores and protects both interior and exterior parts of a vehicle. The interior detailing process at Tint World® includes extracting dirt and grime from carpets, rejuvenating leather and fabric upholstery, cleaning dashes and vents, and more. Just as extensive is our exterior detailing services which include washing and claying a vehicle before polishing it to a showroom ready shine—cleaning the windows and dressing the wheels top off this all-embracing service. Taking the time to get your vehicle properly detailed routinely will ultimately help retain its value.

If after detailing you notice small dents on the side of your door, scratches on your wheel, or even a crack in the windshield, talk to your local Tint World® rep about our reconditioning services. Some damage on your vehicle, such as a crack on a windshield, can actually turn hazardous and will probably require a pricey replacement. Avoid that scenario by getting your windshield repaired at the first sight of a crack. Again, the more you take care of your vehicle, the more it retains its value—you're essentially preserving an investment—so rather than ignore dents, scratches, or cracks, get them fixed for both aesthetic and pragmatic purposes.
And to prevent further dings and scratches, Paint Protection Film (PPF) is another great option to protect your vehicle in the long run. Check out a recent blog post we have on the benefits of applying Paint Protection Film to your vehicle. Basically, PPF acts as an extra barrier of protection that can be applied to different areas of your vehicle from road hazards such as gravel, debris, or even minor collisions.

If you're looking for both style and utility, then consider Tint World®'s window tinting services for your vehicle. Designed to block UV rays that can damage your skin and eyes, window tinting film also protects the interior of your vehicle from those same UV rays. Blocking a lot of the unwanted heat transferred to from the sun's rays, window tint keep you and your vehicle cool so ultimately, the less heat transferred to the interior of your vehicle over a long period of time, the interior (whether it's leather, vinyl, or fabric upholstery) is less likely to dry out or get damaged.

Don't over think car maintenance, products and services from Tint World® have you covered.