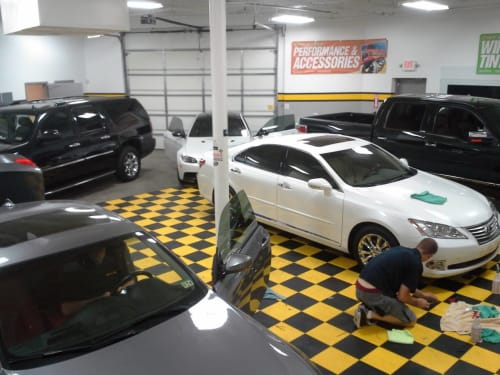 Summer can be a rough time for your vehicle—with long road trips it endured and all the extra mileage it gained from trips to the beach while withstanding the heat from the beating sun—it might be time for your vehicle to get its own vacation. Rather than take up your time getting your vehicle back to a showroom ready look, the easiest option is to drop it off at Tint World®! Tint World® is after all the one-stop-shop for all automotive styling needs where your vehicle can be rejuvenated, restored, and protected.

From a simple wash and wax to a complete automotive detail, Tint World®'s Auto Detailing Services is just the solution to bring your vehicle back to its aesthetic prime. Tint World® can give your car a fresh restart with washing, polishing, and waxing techniques to make your vehicle's exterior surfaces shine while our interior fabric cleaning system can create the all-new car smell you've been missing for years.

Everyone has experienced the trials and tribulations of summertime parking, and not every vehicle makes it out unscathed. Tint World® offers a full range of exterior auto reconditioning services that can repair vehicle scrapes, scratches, scuffs, paint marks, door dings, and just about any other minor damages your vehicle may have incurred. Other reconditioning services include the ability to buff and polish rims to fix curb rash, repair door dings, and patch up any other parking scrapes to an all but time-machine-quality restoration.

To make sure you get the most bang out of your buck out of both Tint World®'s exterior detailing and auto reconditioning services, protect the quality of your rejuvenated vehicle with clear bra (aka paint protection film). Clear bra is a thin, invisible shield of urethane film that is easily and affordably installed on any areas that may be at risk of road damage—scratches, door dents, rock chips, and other road hazards/ At Tint World®, clear bra is computer-cut to fit any part of your vehicle so you can protect entire sections, or individual parts of your exterior finish. Paint protection film requires no special treatment after installation, and it can be easily removed and replaced without any effects to your paint or finish.

And how could you drive off a Tint World® lot without at least checking out all the automotive window tint options we carry? The vacation season may be coming at an end soon but the utility of window tinting can last for years. Window tinting is relatively affordable and is designed to block the UV rays that cause damage to your skin, eyes, and your car's interior. After being parked under the hot sun all day, you may be able to take the heat until you get the windows down and the AC going, but your interior might never recover. Harsh UV rays and excess heat cause cracking and fading of vinyl, plastic, leather, and rubber surfaces, which significantly reduces resale value. So to keep you and your vehicle's interior protected, consider Tint World®'s window tinting services to get the job done.

Contact your local Tint World® store today and request an appointment to get your vehicle back to looking like new again.