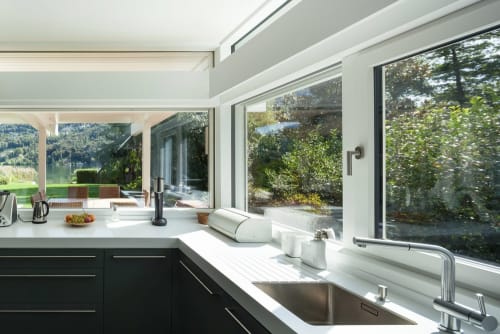 With home window tinting from TintWorld®, you can add extra dimensions of safety, comfort and energy savings to your home. Maintenance-free, fingerprint-resistant home window tinting can give your home a great new look without the expense related to adding new windows or natural light.
Window tinting and decorative films can add several enhancements to your home while allowing you to enjoy the natural light from the sun. Advantages of these products to add to your home include: 
Privacy: With home window tinting, you can add an additional level of privacy to your home. When installed by professionals, you can use home window tinting to make your home's interior difficult to see from the outside, offering the ability to use natural light for your home without having to rely on lights or drapes to maintain your privacy.
Comfort: The latest advancements in home window tinting can help reflect differing amounts of light, allowing you to decide how much of the sun's rays you want to allow into your home. Being able to decide upon levels of sunlight will help keep your home cooler in warm months and warmer in cold months, allowing you to regulate your own comfort levels.
Extend the life of your home items: The UV rays of the sun can damage your home furniture, carpet and other items in your home. Window Tinting and protective film helps filter out harmful UV rays, extending the life of the objects in your home.
Save on Energy Bills: Home window tinting can help keep the heat of the summer from overheating the interior of your home while keeping warm air in during cold months. This can help make your home more energy efficient, saving you money on energy bills.
Home window tinting offers a number of advantages for homeowners who are looking to save on energy costs and enhance the beauty of their home. To find out more about how you can easily add home window tinting and decorative films to your home, contact your local Tint World® today.