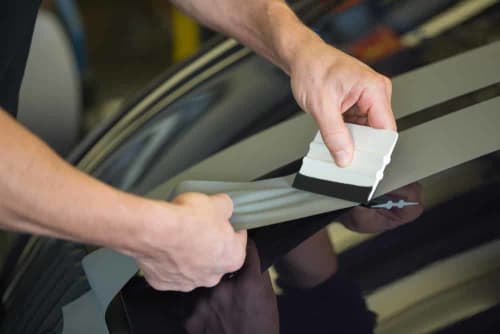 If you own a small business, you are aware that advertising and marketing your business is a full-time job. When looking for a way to drive interest in your business in your local market, consider using Tint World® Vehicle Graphics and Wraps that are available at your local Tint World® location.
While some businesses may think that vehicle wraps and graphics are only for businesses with large fleets of vehicles, you can use customized wraps and graphics on any vehicle to drive more traffic and recognition for your business. Other advantages of Tint World® Vehicle Graphics and Wraps from the Outdoor Advertising Association of America include: Low Cost: The OAAA confirms that vehicle wraps and graphics offers the lowest-cost-per-impression of any form of advertising. Whether you have 1 vehicle or 10, you can use Tint World®'s vehicle wraps and graphics to outfit all of your fleet to promote your brand.
Versatile: Vehicle wraps and graphics can be used for long term or short term periods to advertise what you want to promote about your business. With you controlling the style and design, you can easily swap your graphics out at your convenience.
Targeted: If your business is in one location or several locations in a single area, you can target your message with the local population with wraps and graphics. You will also be drawing attention for your business where ever you drive or park in your local area and can use the messaging on your vehicles to make locals aware of what your business has to offer.
Consistency: As the designer of your vehicle wraps and graphics, you can determine the look of your brand message on your vehicle to match your company's brand. Using your vehicle wrap and graphics as the brand delivery option can give you consistency in your brand message to your local market.
Vehicle wraps and graphics are a quick, inexpensive way to market your small business and brand to customers in your own market. To find out more about how you can add Tint World® vehicle graphics and wraps to your vehicles to drive marketing promotions in your area, contact your local Tint World® today.