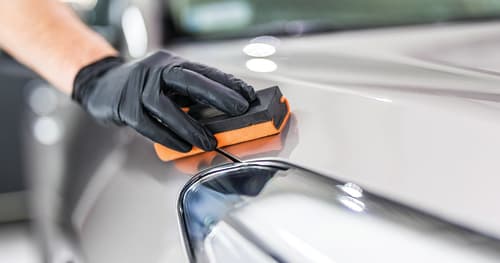 If you're looking for a long-lasting, high-gloss shine for your car, along with amazing, high-tech protection from the elements, nano ceramic coating is a great option for you. This liquid polymer bonds to your car's surfaces, making it hydrophobic (water-repellent), easy to clean and able to withstand mild damage. Your car can even keep that amazing showroom shine without ever needing to use wax. Once applied, a nano ceramic coating for vehicles literally becomes part of the exterior surface.
But how long does the best coating for cars last? With proper care and maintenance, your coating could last a lifetime. That time span is impacted by a variety of factors, such as weather/climate you live in, stored in a garage or outdoors, how often the car is driven, and more. Even bugs can lessen the life expectancy of the coating. Some of these you can't control, so if you want to make sure you get to the upper end of that lifespan, here are some maintenance tips from the experts at Tint World®.
Park with Care
While your coating will be dry to the touch within hours it is important that you allow a few weeks for it to fully cure. During that time it is recommended to keep an eye on where you park it, keeping it out of harsh weather. Ideally, you can park it in a garage, carport, or anywhere that has a roof over the vehicle. If parking it under a roof isn't possible, do not let bird droppings or pollen sit on the vehicle and clean as soon as possible. Keep away from trees that are dripping sap or shedding leaves, too. And sometimes even a roaming animal like a cat has been known to leave a blemish. Hey, your new nano ceramic coating is a great excuse to get the garage cleaned out!
Keep it Clean
Nano ceramic coating helps your car shed water and dirt, acting like a permanent coat of wax. But contaminants can still build up on the coating, making it less effective and dulling the shine. NEVER run your vehicle through an automated car wash, even if you are saving a few cents a gallon on gas. You should hand wash your car once a week and do it out of direct sunlight to avoid water spots and streaking. Use professional car wash products, such as a pH-neutral car shampoo. Your local Tint World® has some of the best car detailing and after-care products available to help maintain your car's appearance and ensure your coating stays as effective as possible for as long as possible.
Also, try the two-bucket technique (soap in one bucket: fresh water in the other). Dry it completely but gently with a high-quality microfiber towel. Note that if you drop a towel or sponge on the ground, get a new one. Even a tiny pebble you accidentally pick up can cause damage. Many Tint World locations have bundled "detail" kits that come with microfiber cloths, car wash "shampoo," glass cleaner – all you need to keep your car well-maintained and looking fantastic.
Be sure to avoid mechanical, automated drive-thru car washes. And we don't recommend using a car cover, as it will collect dirt and dust over time. Lastly, inspect your vehicle's exterior often, just like you would a rental car. If you see dirt, bird droppings, dead bugs, tree sap, etc, clean it off using the techniques above.
Get it Detailed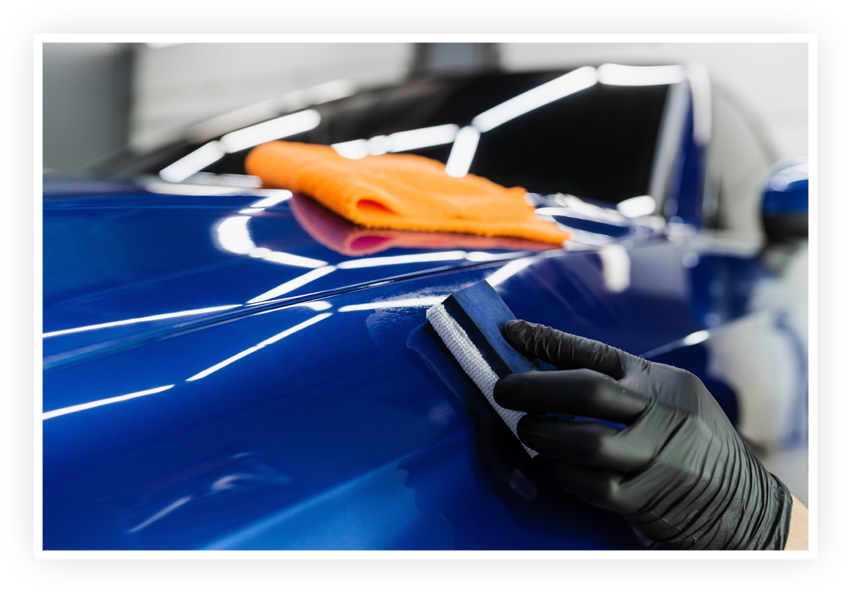 A professional detailing service, preferably the professionals who applied the coating, will know how to care for it best. The professional-grade products used by detailers are second to none, and their experience will be valuable in maintaining your car's look. And while professional detailing can be a financial investment, it does more for your vehicle than just properly maintain the coating. Professional detailing will increase the longevity of your car's interior as well, such as the carpet, leather surfaces, and headliner.
In addition, you should get the topcoat reapplied four times per year (once per quarter, or every 3 months).
It's important to note that a Tint World® ceramic coating has a lifetime warranty, with the purchase of a maintenance package that includes everything the coating needs to last as long as possible. Or you can opt for an annual inspection where we examine the condition of the coating to determine if additional applications are needed. While a few touch-ups may be required, it will be less expensive than a total re-application down the road.
Can I install a ceramic coating myself?
There are many DIY ceramic coating products available. More now than ever. The proper application of a ceramic coating requires tools, an enclosed garage, and experience you may not have. Take a look at our Nano Ceramics Coating Fact Sheet for more information on DIY coating products. It may seem cost effective at first, but if it's not applied correctly, you may have to pay a professional to have it removed and then a new ceramic coating applied. The bottom line is, that it's an expensive DIY mistake on one of your most prized possessions.
Is Nano Ceramic Coating better than Paint Protection Film?
We get this question a lot, and the answer is that they do the same thing but in different ways and each offers something the other doesn't. Both products protect the surface of your vehicle and both increase its resale value. Paint Protection Film, or PPF, is thicker and generally is better for protection against the elements – rocks, bugs, weather, scratches, etc. It can also heal itself because of the chemical composition.
Nano Ceramic Coating does a good job of protecting the surface, but its primary function is to help keep your car clean via the hydrophobicity of the coating. You can have both products installed on your vehicle for maximum protection. Nano Ceramic Coating is generally a lot less expensive, even with the regular reapplications that are required.
How will I know when it's time to have the Nano Ceramic Coating redone?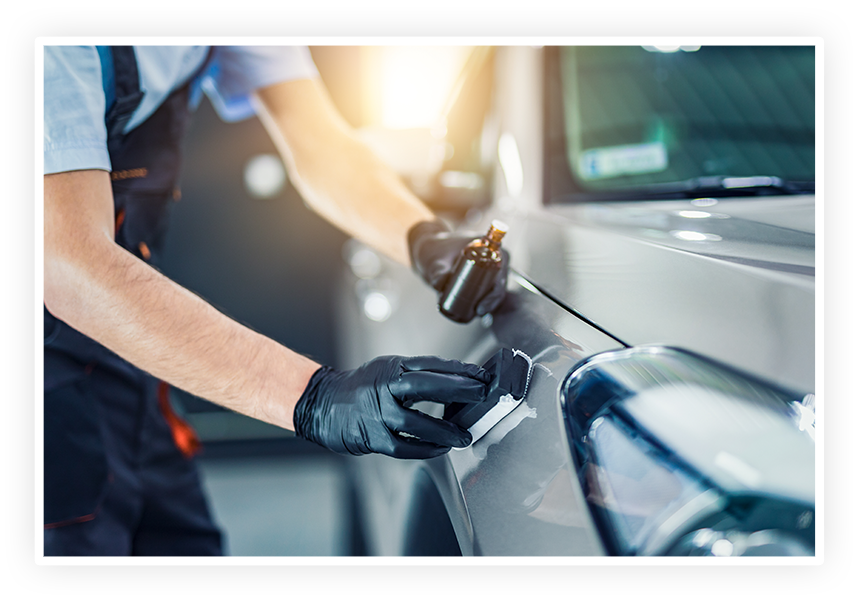 These maintenance tips will help keep your coating look brand new for as long as possible. Just remember nothing lasts forever. As your coating starts to lose its effectiveness, you'll first notice a decline in the "hydrophobicity" of the coating. Hydrophobicity is what makes water, mud and all that grime magically slide off the surface of your vehicle. It deteriorates over time, and when this happens, it's time to start thinking about a new application.
You will also notice a loss of the intense shine. It helps to wash it weekly, as we said, but you can also rinse your car off more frequently (not in direct sunlight) to remove road chemicals, traffic film, pollen, brine (if you live near the ocean), and the grime that just builds up over time.
The people who care enough about their vehicle(s) to get a ceramic coating application will also care enough to maintain it properly. After all, your vehicle is your pride and joy!
Properly maintaining your ceramic coating will do more than ensure it lasts longer. It may increase its resale value. Any irreversible damage to your vehicle's paint/clear coat will impact its resale value. If you increase the longevity of your vehicle's surface, you'll likely keep its resale value higher than if you had no ceramic coating. Ask your local store about a Ceramic Coating Maintenance Package which includes a series of inspections and touch-ups which goes hand-in-hand with Tint World's Nationwide Nano Ceramic Coating Warranty.
Where can I find paint protection and ceramic coating near me?
If you're looking for the best ceramic coating for cars in 2023, there's no better place than Tint World®. The automotive styling experts at Tint World® are here to help you get the results you need, when it comes to ceramic coating for vehicles.
If you would like to learn more about ceramic coatings, just contact your local Tint World® today!