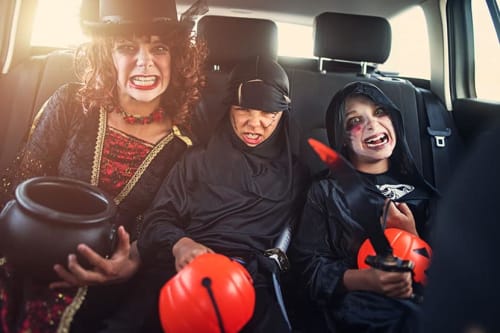 Six ways Tint World® can get your ride ready for Halloween
Halloween is the perfect time to delight and terrify your inner child with witches and warlocks and all the things that go bump in the night.
If Halloween is your jam, Tint World® can help turn your car into the ultimate haunted hoopty with car graphics and wraps or audio and lighting options.
Here are six ways our Tint World® experts can get your car ready for Halloween:
Go Great Pumpkin: Capture the color and feel of a classic jack-o'-lantern with an orange wrap and black highlights. We can wrap your ride with the shades and hues of your choice without damaging your paint.
Full-color printing: Shout out your Halloween spirit with the words of your choice applied by one of our expert graphics techs. Go with a great big "boo," or keep it simple with "Happy Halloween."
Spider webs: Our graphics team can even apply a stylized spider web to your car. If you are in a more sinister spirit, might we suggest a sickle?
Tint: Nothing adds mystery to your automobile like dark tint. Leave people asking "who's lurking inside?"
Lights: A ghost light would be appropriate, as would fog lights to cut through the night mists of Halloween. Interior lighting could provide the best effects. Our lighting options can add a spooky ambiance to your car, whether it's ghoulish green, raging red, or odious orange.
A/V: Blast the "Monster Mash" or the wails of ghosts via one of our state-of-the-art audio systems. We stock the most popular car audio products, including speakers, amplifiers and subwoofers. We can also install video monitors and screens to broadcast your favorite scary movies on the way to your Halloween hoedown.
From the hokey to the horrifying, we've got your Halloween spirit covered. Contact your local Tint World® today to get in that spooky spirit.