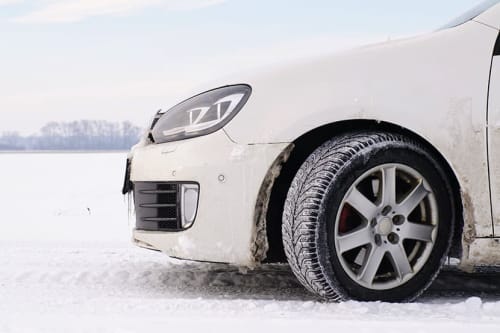 From snow tires to paint protection, we've got your vehicle covered
Depending on what part of the country you live in, late October is the time to start thinking about making sure your car is ready for winter. Tint World® can ease the process with our awesome selection of tires and paint protection options. Here are five ways we can help you get down those winter roads:
Install snow tires or all-weather tires. We offer custom wheel and tire packages including snow tires, specially formulated for easier and safer navigation along icy roads in both the city and country.
Restore your headlights. Headlights are important for safe driving during snowstorms or long winter nights, but they degrade over time. We can restore your headlights to their original state or better. We can also upgrade your headlights or apply a protective film.
Tint your windows. Winter carries its own share of glare and visibility problems. The low angle of the sun can make the morning and afternoon commute a challenge. Install a windshield strip or get a full tint job to cut the glare and the risk. Even winter sunshine can deliver dangerous levels of UV rays that can lead to eventual melanoma or chronic eye problems.
Paint protection film. Our car paint protection packages can safeguard your vehicle's paint job from the effects of salt, brine, and road grime. Keep your ride nice and shiny in winter's dim light.
Windshield film. Our Tint World® Windshield Film protects your vehicle's windshield from salt pellets, gravel, sleet or hail. The protective coating provides an extra, invisible layer of protection so your windshield won't get pockmarked from flying road debris.
Ready to get your car prepared for winter? Contact Tint World® today to take advantage of our winter prep options.