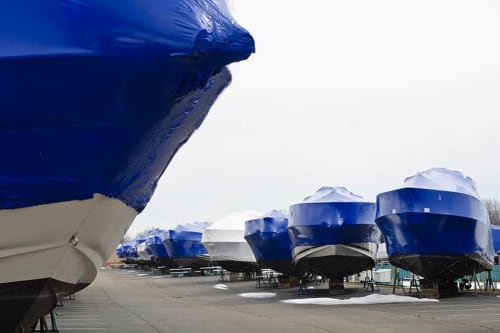 Get a jump start on next boating season
All good things must end. That includes the boating season. Tint World® is best known for our aftermarket car accessories and window tinting services, but we can help prepare your boat for winter slumber.
Before going into storage, your boat or yacht will need a thorough cleaning. Storing a dirty boat can lead to corrosion, especially if you are a saltwater sailor. We've got the experts and technicians to do the job right. We can clean the grime off the hull and deck and make sure any interior cabins are shipshape. Here are six of the services we offer to make sure your boat is ready for winter downtime:
Hand-wash and dry. This will remove any lingering salt or grime.
Interior dusting and vacuuming. This ensures your galley, seating area, and berths are as clean as can be.
Rust and stain removal. If your boat is showing signs of rust or stains, we'll clean them up, leaving your boat looking good and preventing further degradation.
Leather and vinyl restoration. The combination of heat and moisture can cause leather or vinyl seating to toughen and dry or turn brittle. We can also treat Bimini covers and exterior seats on the deck and bridge.
Glass restoration. We have a range of specialized products that can clean and restore shine to glass windows. Let us restore their sheen ahead of next year's boating season.
We have a whole tier of boat and yacht detailing options, ranging from an economy package up to an ultimate package that offers fiberglass repair and wood restoration. Your boat has treated you and your family to many fun days on the water this summer. Take care of your waterborne baby and make sure it's ready for next summer.
Contact your local Tint World® for more information or to make a yacht or boat detailing appointment.