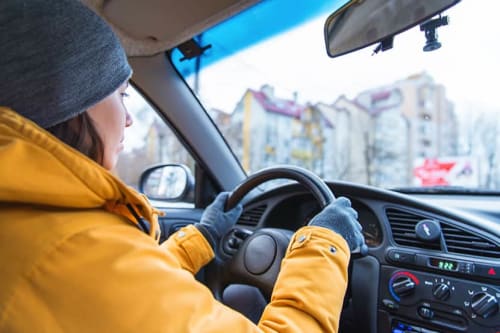 4 tips to stop the winter shivers
Do you hate shivering in a cold car in the winter? So do we. But you're in luck. Even if your car didn't come with luxury upgrades like heated seats or a remote start, Tint World® can install them for you today and get your vehicle's heat going full-blast! Here are some tips for a warm and toasty car this winter.
Heat for your seats. Your car's heater blows hot air at your front, but what about your back? All-around heating is much better for keeping you and your passengers warm. Heated seats weren't factory standard for your car? No problem! Tint World® can easily install heated seats in almost any vehicle.
Start your engine. You don't have to sit in your car while it warms up. With remote start, you can let your car run ahead of time so the heater has done its job once you get in. That's a relief on a cold day!
Plug it in. In colder climates, using an engine warmer is a must all winter long. These gadgets cut warm-up time for all your car's systems significantly, getting you warmer faster. They can also help preserve your car's engine from the long-term effects of frigid temps.
Let the sunshine in. Take advantage of a natural heat source. During the day, park your car in the sun. The radiant heat from the sun's rays will make your car a little warmer when you're ready to roll again.
We hope these tips keep Jack Frost from following you into your car this winter! If you'd like to upgrade your vehicle for a warmer, more comfortable drive, contact your local Tint World® for services, products, and installation.