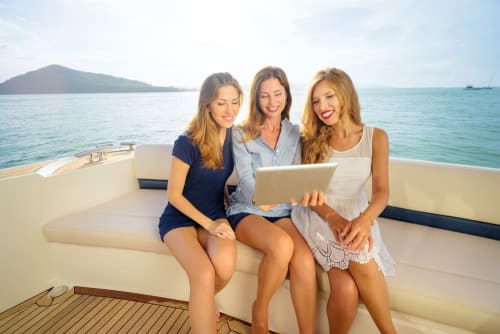 If you own a boat, you probably know that time spent on the water usually beats time spent away from the water. However, there are always ways to enhance your time on your watercraft of choice, but what technologies or enhancements offer the best chance for enjoyment? At TintWorld®, we offer a wide range of marine technology enhancements that are designed to make your time even more fun.
So, what is the future of marine technology and what items should you consider? Some of the most common enhancements that we have found include: 
Connectivity: Getting connected for boats is extending beyond traditional navigation systems; Built-in Wi-Fi on boats is becoming more and more common, with the ability to access the internet for charts and other navigational aids, HUD systems to stay focused on the water, as well as remote monitoring of engine usage and through other apps.
Auto-Leveling Systems: Once the realm of the over 60 foot lines of boats, auto-leveling systems are now making their way to boats in the 30 to 50 foot range. Designed to minimize rolling and pitching, as well as guarding against seasickness and on-board fatigue, these auto-leveling systems can offer enhancements to the boating experience.
Customization: With most boats being available in only single color options, the advent of boat wraps has opened a new way to personalize your marine investment. Offering style, as well as protection, boat wraps from TintWorld® can be customized to a wide range of styles and colors, offering an extra level of protection to a boat's finish while providing a removable, non-damaging alternative to often expensive paint jobs. Adding a fresh new look to your boat with the latest boat wrap technology can extend the life of your boat for owners and their families.
Adding the latest technology to your boat can offer you additional enjoyment for your time on the water. To find out more about the latest marine technology enhancements for your boat investment, contact your local Tint World® today.