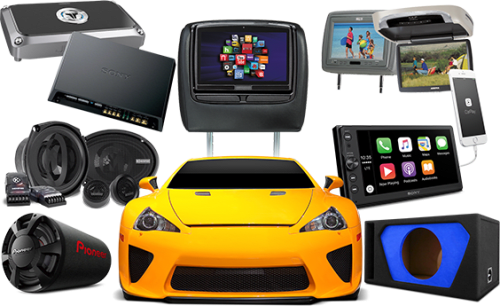 We know how disappointing it can be when you want to crank up the stereo, and you're let down with poor sound quality. Not all factory-installed sound systems are created equal, but don't worry – Tint World® can still outfit your vehicle with an audio system that will rock your world!
When it comes to audio brands, our stores offer everything from the most popular in the industry, to some that only audiophiles are familiar with. Whether it's a basic upgrade or a competition system, Tint World® can build a personalized audio package to fit your needs. Don't forget to ask about Android Auto™ or Apple CarPlay™ for a more seamless and complete integration experience – especially for road trips and commutes!
Tint World® offers a full range of audio components and vehicle electronics to mix-and-match for the perfect combination:
In-dash receivers: Is your vehicle a little older? Upgrade your system with an up-to-date, in-dash receiver that offers features like GPS navigation, Android Auto™ and Apple CarPlay™ compatibility, as well as visual guidance and entertainment options.
Amps and equalizers: Stereo system sounding a little weak? Boost its power and sound quality with a full range of amplifiers and equalizers.
Subwoofers: Bring the bass with a full subwoofer enclosure component system or a basic upgrade.
Enclosures: Get the most performance out of your subwoofers with a custom-built enclosure designed to fit in any vehicle. It can be compact, under-the-seat version or a larger box suitable for trunk or hatchback areas.
When you're ready to upgrade your audio system, leave everything to us! Tint World® professional electronics technicians are fully trained in the latest techniques and equipment to integrate high-tech audio upgrades safely into your vehicle's electronics system.
Contact your local Tint World® today for car audio components and installation services!