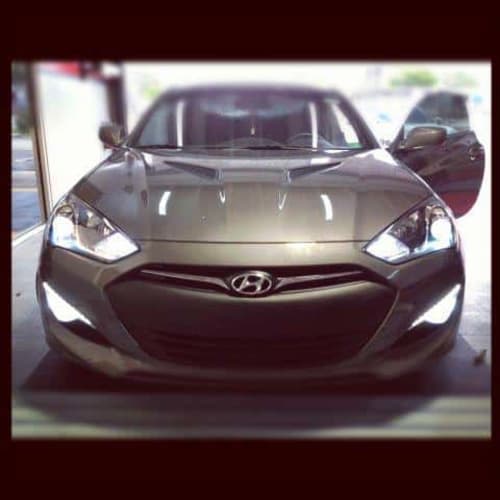 Lighting accessories has always been a big trend in the automotive styling industry, and Tint World® has you covered when it comes to your vehicle's lights – whether its your headlights, interior lights, or even lights under your vehicle.

Tint World® offers the latest interior and exterior lighting accessories for better visibility at night or just to add a touch of personalization to your car. Our specialists at Tint World® will help you choose the right accessories for your needs and vehicle.

Customizing your vehicle's lighting adds an instant cool factor. Check out this vehicle that was decked out with a custom Tint World® LED Interior Lighting Kit. The kit includes a variety of colors to customize your visual comfort and is actually 4 times brighter than standard interior lighting. This type of accent lighting creates an ambiance like no other, setting the right mood whether you're on a romantic date or cruising the streets with your friends.

For exterior lighting customization, Tint World® offers LED Neon lights that instantly adds style to any headlight. LED underglow lights can add a visual light show under your vehicle. HID lights are also available at Tint World® which offers the maximum lighting technology for vehicles. The Xenon HID lights Tint World® carries are 3 times brighter and last 10 times longer than standard halogen lights.

Other lighting accessories include driving sport lights which increases visibility and protects equipment and personnel. If you're located in an area that is known to have heavy fog, fog lights available at Tint World® can make driving much safer in low-visibility situations. You'll be able to see the road better and be sure other vehicles can see you too.

If you're not interested in LED or HID lighting but looking for a way to customize your lights to add some style, Tint World® can offer other solutions. Tint World® can apply tint film, that comes in a variety of colors, to your tail lights to give it a cool, custom look. Tint World® also offers headlight tinted protection film, a material that not only creates a custom look, but also protects the headlight from any incoming damage such as road debris, rocks, or rubble.  

Additionally, Tint World® also offers maintenance services for your headlights – ensuring safety and usability of your lights. Our Headlight Restoration services clears damaged headlight lenses of oxidation and discoloration by the sun or prolonged exposure to outside elements. You'll be amazed how much brighter your headlights will shine after it's been restored. And Tint World® not only rejuvenates your headlights, but we also apply a layer of UV protection coating to guard against future damage.

Come to Tint World® and be illuminated by all the lighting services offered. Speak to one of our specialists about all your lighting needs.