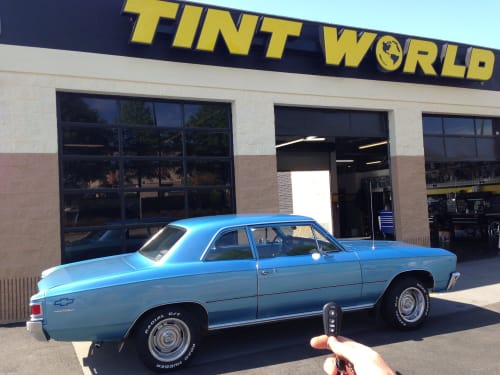 If your ride is getting a little long in the tooth, you may be thinking of trading it in for a newer model – but why? If it's treated you well and you enjoy it, why not just keep your vintage car, truck or SUV and upgrade it?
At Tint World®, we're connoisseurs of vintage vehicles, but while some old school tech is charming and reliable, others are admittedly far too dated. So, if you're looking to upgrade parts but keep the overall feel and character of your older car, here's how we would modify your vintage ride:
Modern suspension: A lot of older vehicles come with even older suspension setups, and if you haven't upgraded to fresh parts, your handling could be sloppy or even dangerous. Refreshing your suspension with new, aftermarket shocks, coilovers, control arms or sway bars can transform your vintage ride and awaken sharper handling characteristics. While you're at it, you should consider upgrading your braking system for a complete suspension overhaul.
Mobile electronics: If your friends are bragging about back-up cameras, Bluetooth stereos, LCD touchscreens, and GPS navigation in their new car, don't get jealous. Mobile electronics upgrades can modernize any vehicle as aftermarket solutions can be fitted to any make and model. Custom car shops can also help make sure each upgrade fits with the overall motif of your ride.
New vintage wheels: While old school wheels may look cool, they're typically small and heavy – hurting your car's performance and curb appeal at the same time. However, the aftermarket has the ideal solution with new "vintage" style wheels that match the old-school look but are larger, lighter and stronger than any factory option. This is a great way to add lower sidewall tires for better performance, larger wheels to fit bigger brakes, and a custom look all at the same time.
Upgrading a vintage car doesn't mean you have to throw away its charm and appeal. To get started adding some old-school cool to your ride, contact your local Tint World® today. Our specialists can help customize your car no matter how old it is.