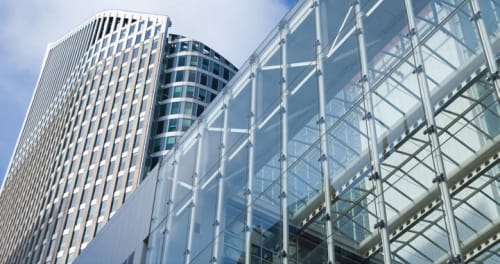 Tint World® window tinting is one of our signature services. We're famous for the way our window films protect vehicles from harmful UV rays as well as everyday damage and more. But did you know that we also offer commercial services?
The same high-tech films we use to protect your vehicle can also protect your business. Our window films are well-known for filtering harmful UV rays and keeping us cool and comfortable, but commercial window films offer other great benefits. Here are just a few:
Better privacy. Not only do Tint World® commercial window films lower energy usage and protect from UV radiation, but they also enhance the appearance and privacy of your business location. Tinted films increase interior privacy without obstructing the view from the inside. There's no need for unsightly blinds or cumbersome drapes because Tint World® commercial window films take care of both shade and privacy.
Injury protection. Tint World® security window film can help prevent accidental injuries from broken glass. Because security window film is engineered with durable adhesives, broken glass doesn't go flying, but rather stays safely attached to the window film. Not only does this make treated windows safer, but it also makes cleanup and repair easy. The film keeps all the pieces in place, making it simple to remove and replace a shattered window.
Increased security. Commercial window security films help prevent "smash and grab" burglaries and other kinds of forced entry. Because security films reinforce windows, broken glass remains in place, making it difficult for intruders to get in. Frustrated would-be thieves quickly move on to other targets.
Commercial window films are a cost-effective way to upgrade your workspace. Like a great pair of sunglasses, our commercial films make your building look better while providing much-needed protection. Not only that, commercial window films offer better privacy for you and your employees, along with increased safety and security.
If you're ready to discover all the benefits of commercial window security film, contact us today for a quote!