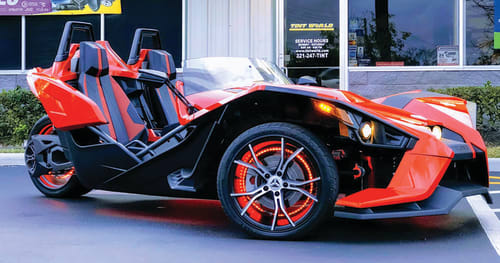 It's always exciting to get a new toy. The thing is, when you grow up, your toys just get bigger and more expensive. If you've got a motorcycle, UTV, ATV or boat, you probably expect it to experience at least a little wear and tear. After all, it's out on the trail or in the water, where all the fun happens. But it doesn't have to be that way. Tint World® offers a variety of ways to protect your grown-up toys, including Nano Ceramic Coating and Paint Protection Film. Here are some of the benefits that paint protection film can offer your off-road or marine vehicles.
Shield Your Toys
There are so many things on the roads, trails and in the water that can damage your recreational vehicles. Even if you don't encounter rocks and branches that will scratch the paint, over time, dust, debris and even corrosive elements in oceans, lakes and rain will take their toll on your finish. Paint protection film invisibly shields your finish from everything, from big scrapes to tiny scratches.
Precision Cuts
With our computer-cut system, your paint protection film will be customized to your vehicle. These cuts are so precise that the film is completely invisible, blending seamlessly with your vehicle's existing finish.
More than Paint
But that's not all. We can apply protective film to more vulnerable surfaces on your vehicle, including headlights and windshields. Over time, headlights can actually appear dimmer due to tiny scratches on the headlight's surface. Headlight protection film can keep them shining bright. No matter where this summer's fun takes you, make sure your vehicles are covered. You wouldn't go outside without sunscreen, so why take your toys out without paint protection film? To find out more, just contact your local Tint World® today!