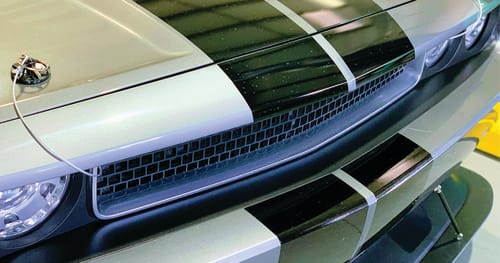 A vinyl wrap is a great addition to your car or truck. If it's a commercial vehicle, it adds a professional polish and serves as a mobile advertisement for your company. If it's a personal car, a vinyl wrap lets you customize the look and feel of the vehicle without committing to a full, permanent paint job. But are you worried about how long your vinyl wrap will last? In general, vinyl wraps last two to five years, so what can you do to extend the lifespan as long as possible? At Tint World®, we offer an amazing treatment that can be applied to all of your car's surfaces, even vinyl wraps. Nano Ceramic Coating, when added to your vinyl wrap, can protect it from damaging elements that might shorten its life. Here's how.
Hydrophobic
One of the main reasons that vinyl wraps come to the end of their lifespan is drying. Over time, water drying on the vinyl wrap robs the wrap of moisture, making it brittle and causing it to peel away from your vehicle. Nano Ceramic Coating is naturally hydrophobic, meaning your wrap will shed water instead of absorbing it.
Sun Shield
The sun's harmful UV rays are another element that can shorten your wrap's life. But Nano Ceramic Coating acts like sunscreen for your wrap, blocking the rays that could make it fade or dry out.
Dirt Blocking
Nano Ceramic Coating also blocks dirt and other contaminants from adhering to or getting under the vinyl wrap. This makes the surface of the wrap easier to clean and keeps dirt from affecting the bond that adheres the wrap to your vehicle. If you're looking to extend the life of your vehicle's vinyl wrap and protect your investment, ask your installation expert about adding Nano Ceramic Coating. For more information, just contact your local Tint World® today.