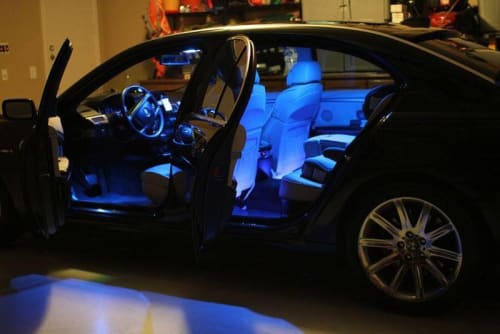 If you own a used vehicle, chances are you have some damage to the interior. As with anything; wear and tear comes as a package deal with continued use. The more you drive, the more you must maintain your vehicle. Even the most careful driver may have a mishap. Perhaps, a friend burned a hole in your backseat during a late night romp around town, or a tiny tot scratched your console while playing with their toy. Don't lose hope; in this article we'll let you in on a few easy fixes that don't break the bank and will bring your car back to its former glory days.
Fix 1
Cigarette Burn Holes
A cigarette burn in the upholstery can really downgrade a nice car. The good news is you don't have to trade in your car for a new model to have a pristine interior. Any small tear or burn in the fabric of your vehicle can be repaired by a professional, and it doesn't have to cost you your first born child to get it fixed. There are a number of how to videos on the internet that seem easy enough to do; but for people with an unsteady hand, it can be difficult. Before you go to a specialty auto upholstery shop in town check out Tint World®, where you can get the job done faster and better for a fraction of the price. So why live with a damaged interior, when there is a quick and easy way to drive in style?
Fix 2
Scratches in a Panel or Console
For a deep gash or tear in any door panel, console or dashboard; all is not lost. Yes, you can have any tear, crack or gash in your leather, fabric or vinyl console or dash restored and revamped for a reasonable price. Get your car in for a consultation at Tint World®, your local one stop vehicle restoration and repair shop.
This repair, while tedious and nearly impossible to do well at home can be easily and expertly done by a trained Tint World® professional. The torn and damaged dashboard, console or panel will look perfectly restored and like new. The procedure will take only a few hours. So don't just let your car deteriorate or your dashboards crack in the sun; come in and restore your vehicle back to its original state with vehicle restoration.
Fix 3
Scuffed and Scratched Rims
We have all scratched a wheel or rim at one point, some of us do so more regularly than we care to admit. Even with a perfect paint job, guttered and scratched rims and wheels can really make a nice car look sloppy. You don't have to buy new rims, wheels and tires to get rid of your guttered scratched wheels, tires and rims! You can have them restored. With vehicle restoration, the rims can be refinished, repainted and the scratches filled.
So what are you waiting for? Get into a local Tint World® and have the pros do it right!  Get your rims to sparkle and show the world you have pride in your ride.
Extra Tips
These three repairs are just the tip of the iceberg. At Tint World®, the oldest and most respected tint and vehicle restoration shop in the United States; there isn't a job too big or too small. You can make improvements to your vehicle one at a time, with financing and all for a low competitive price. Call today for a quote and ask one of Tint World®'s friendly staff members to inform you of your options on car restoration services and repairs.