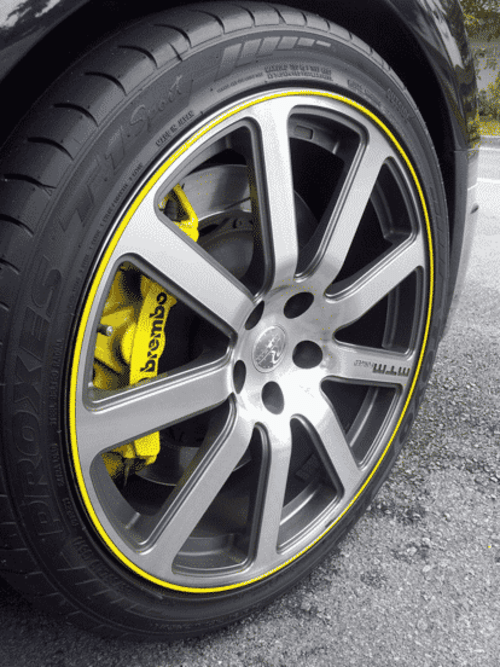 An inevitability of owning a car, truck or SUV is shopping for tires, and if you want to stand out with all-new tires or simply need to replace a damaged rim, you may find yourself shopping for more than what you're used to. Purchasing wheels and tires for your ride can be confusing, difficult and frustrating, as typically these investments are made in increments measured in years – not months. Making a choice that you'll be obligated to stick with for a long time may seem daunting, but it doesn't have to be.
When in doubt, your best bet is to work with a trusted automotive customization shop that specializes in both factory and aftermarket wheels as well as tires from a variety of brand-name companies. Before you head to your local Tint World® to get your next set of wheels and tires, here are a few things to consider:
Factory or aftermarket wheels: If you want to get a new set of wheels for style or necessity, you first should look around and consider whether sticking with factory wheels or dipping into the aftermarket is best for you. Manufacturer's wheels will provide the best fitment for your vehicle but they might not stand out like products available on the aftermarket. If you do decide to go custom, you need to know your vehicle's lug pattern, hub diameter for the wheel's centerbore, space allowance for wheel diameter as well as the offset allowance.
Wheel purpose: Your pick of aftermarket wheels should be based around your vehicle's purpose. While bigger wheels may look cool, they tend to weigh more which can have adverse effects on fuel mileage. If you're wanting a stylish weekend warrior, mileage might not be of much concern. If you want a car that handles well, look at a forged option that is both strong and light weight. Is your car a bit older? Maintain that retro look with vintage or replica wheels that model old school styles no longer in mass production.
Tire size: Once you've got your wheels picked out, you can move on to tires and sizing. It's best to try to keep the sizing as close to factory as possible unless your desires dictate otherwise. If you decide to go differently, such as larger, keep in mind your vehicle's fitment allowance, as you might be limited by its wheel well.
Tire purpose: Tires can be categorized in a number of ways, but typically there are car varieties such as all-seasons, summer, economy and snow, and also truck/SUV tires including highway, all-terrain and mud-terrain. While each has its own specific purpose, keep this in mind – the higher the performance quotient, the smaller the lifespan. Talk with your local automotive specialty shop about your driving habits, commute, frequency and desires and you'll find the best tire for your application.
Picking your next set of wheels and tires can be daunting, but you don't have to make a decision alone. Allotting yourself some time to understand the above considerations before you enter the tire shop can also give you buying power so you don't end up with a bad set. If you're looking to stand out and get the right wheel and tire solution for your ride, give your local Tint World® a call and let our expertly trained professionals guide you through the intricacies of automotive customization.