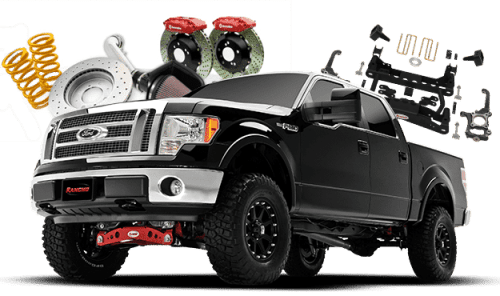 For many truck owners, the question of adding a lift kit to your truck is a common one, and certainly, it should be. Why not add a bit of style and better handling to your ride? However, before making this decision, there are a few questions to be asked. The first major question that must be asked is …
Is it for Looks?
Are you looking to make a statement and say something with your truck? What do you want to say to the world? For many, the vehicle you drive is an extension of your personal expression and independence. Your car can say many things to the world. A Prius tells us that you are earth conscious and altruistic, a Mustang tells us you have a rebel within ready for action, a lifted truck says you are tough and seek a real connection with the world around you. Just as each car makes its own statement, so too does each lift. There are monster trucks, powerful work trucks, trucks to pull trailers, trucks for Baja, trucks for the mountains, and trucks for show. What is the look you want?
How High Do You Want to Go?
All lifts are not created equal, and likewise, nor are the inches of lift that come with a kit. When choosing the right lift and suspension for your truck you must decide if you want to go big or low key? Is this a trophy truck or a work truck? If you are going for a more extreme look but want to keep it on the highway, this will greatly influence the products best suited to create the custom lifted look you desire. If you are going for a flashy look with noticeable height, swagger, and to get noticed, then the kit will need to reflect that. This is where your options begin to refine themselves and you can get closer to making an informed decision, one that you will not regret. The questions do not end here, even if this is the driving factor that moves you.
Is it for Performance?
If your primary motivation for a new lift kit is performance-based, then the type of activity your truck engages in will predominate the decision-making process. The differences in use, terrain, and load pertaining to your truck will greatly alter the lift height, shocks, and suspension of your vehicle. In some cases, you may have to sacrifice height for function.
If you plan to use your truck on highways and are seeking greater wheel clearance and more suspension for load support, your ideal kit will differ greatly from that of the truck owner who is looking to be Off-Road Ready in Class 7 for the Baja Dos Mares Race. If you are seeking an Off-Road vehicle, then the terrain and climate will determine which product is best suited for your truck.
Dirt, Sand, Highway, Mud or Ice?
Do you want to slow creep over large boulders or have improved handling around loose gravel and rock on sharp turns? Do you want to move quickly in the desert or do you prefer a mixture of terrains? If you live in a colder and wetter climate, the selection will likewise be altered to tailor your vehicle for optimum performance. Certainly, the tires will greatly differ and thus, so too will the combination of height, play, tires, bushings, and shocks. There are a number of variables that will need to come together to build your dream lift and make it a reality. The highway is vastly different from the sand or mud, and your truck must be fitted to work well with the natural environments it will most often come in contact with. The whole suspension system at this point needs to come together like a productive team, each part has its own purpose and has to work well with the other members of the cohort in order to provide you with the most efficient and effective system.
Finances and Timing?
For nearly everyone making a decision on a lift kit, a compilation of criteria is involved. Not only are the look and handling key components in the decision-making process, but finances and timing are also important factors to consider. It is for this reason that, unless you are a master mechanic certified in custom installations, you may need added assistance in making this decision and most certainly in the installation and maintenance of your new lift. Find a customization shop with a knowledgeable certified and highly trained staff that can offer a variety of product lines, manufacturers, and has special options like financing and vehicle rentals to make the transition to your new lifted truck a smooth one.
Tint World®
At Tint World® we offer a one-stop shop for all your custom lift needs. We can customize your truck and tune it to your exact requirements and specifications. Our highly trained technicians can explain the pros and cons of the many different products, styles, and options we offer.
This January for a limited time we are offering 15% off all Off-Road Products as well as 10% off all installation of our products. So if you have been dragging your feet on making the move to a new lifted truck for 2015, come into one of our many locations and talk to a specialist about the best options for making the truck of your dreams a reality this year.