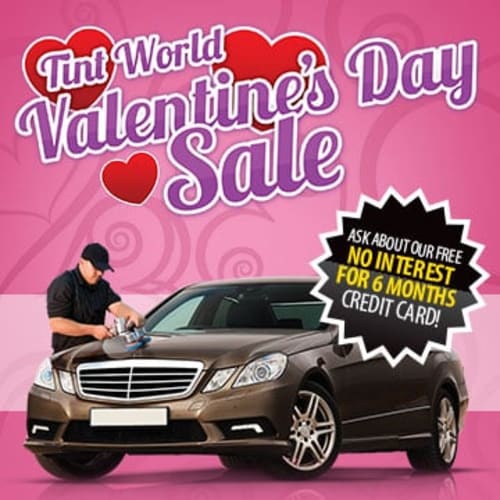 Make this Valentines' Day Extra Sweet…with special savings and offers available only at Tint World®.  Buy your sweetheart a few special gifts that will keep them warm, stylish and safe this holiday. At Tint World® we have something special for your special someone.
Make this Valentine's a day to remember with new safety features like 15% off Accelle Backup Sensors or 10% off all Accelle Rear-View Video Screens. Protect your family and the things you love. With a stylish new Rear-View Video Screen, you can see clearly behind you without turning your head. When combined with the Accelle Backup Sensor, you will receive an audible alert if anything is in the line of danger and out of your line of sight. Together you have a dynamic duo to keep obstacles out of your way for a smooth long ride out into the sunset.
Seat Heaters
Keep your baby warm even on the coldest February evening, when driving to your favorite date night restaurant with seat heaters. For only $299 your driver's seat will stay toasty warm, and for this Valentine's Day another $249 will give your passenger a warm fuzzy feeling all the way to your romantic outing as well, with a passenger side seat heater to match. Give warmth and comfort to your special someone this Valentine's Day.
Car Detail
Don't go out for this special V-Day, without considering the special details. 2 for 1 Detailing will make a lasting impression on whomever you take for a ride. Make this Valentine's Day a special evening with a clean look to match your clean car, plus you can surprise your date by having their car detailed too. Two love birds in two classy looking clean cars…a match made in heaven. Caring is sharing so get your cars detailed this Valentine's Day with our limited time 2 for 1 Detailing Special only at Tint World®
Window Tint
Tint your car this February and you will receive a free window shield strip. What a great surprise for this special holiday! Imagine your loved one comes out of work only to find their car with a red ribbon and a brand new tint job to keep them cool and their possessions safely hidden with a stylish protective tint job. The tints are UV protective and help to block harmful rays from causing premature aging and skin damage. Surprise your special someone with a cool looking window tint that keeps them looking young and healthy for the many Valentines Days to come.
With so many offers and choices to choose from you are guaranteed to make a great and lasting impression. With special gifts for your partner's car, you show you are in it for the long ride and a long future. Call Tint World® today for other great Valentine's Day ideas.