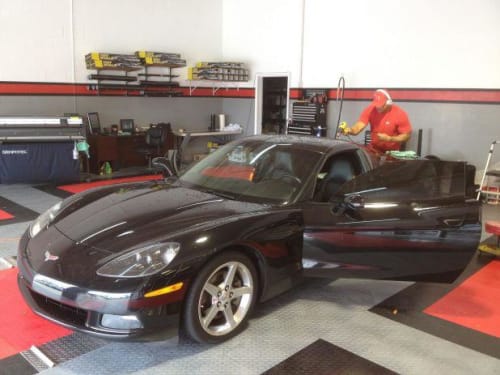 Spring has sprung and summer isn't too far behind. With the weather heating up, more people are getting out of the house and into their cars to travel to their favorite outdoor destination. With Tint World, the ride there can be just as fun, and comfortable, with auto enhancements like window tinting or audio upgrades. Stop by your local Tint World for great brands, low prices, and services perfect for spring.

Spring cleaning can be a hassle, and a lot of people won't even include their vehicle on their annual clean fest checklist, instead focusing on their home. As some people practically live in their vehicle, Tint World's auto detailing services is the perfect solution for an automotive spring cleaning. Tint World's auto detailing services include interior services like vacuuming and hot water extraction to get dirt and grime out of carpets and upholstery, while exterior services like buffing and polishing brings back the shine to your vehicle. It'd be a shame to clean your home and then have to get in a less than spotless vehicle. Tint World give your ride a fresh start with cleaning, waxing, and interior fabric cleaning for a like-new finish and smell.

More time in the sun mean more glare, more UV rays, and more reasons to tint your car windows. Car window tinting will keep your car looking cool on the outside and feeling cool on the inside with heat-blocking films that reduce heat transfer for up to 40% heat reduction. So stay comfortable during that 6-hour road trip with window tinting and feel safe that the film also blocks UV rays to keep your skin and eyes protected during your springtime cruise.

Spring is also a great time to prep your home for the impending summer heat. With similar benefits of heat reduction and UV glare, residential and commercial window tinting services from Tint World can save you money at home and at the office. As window tint film increases the insulative properties of your glass windows (whether residential or commercial), energy use is reduced to keep the home or office cooler – essentially saving you money on cool, and even heating, costs.

Spring is literally only a warm up until summer hits but it's the beginning of longer days of sun and shine, perfect for outings. Whether you're headed to the beach or just running errands, make your vehicle sound as good as it looks with car stereo products and professional installation from Tint World. Tint World also carries the latest and hottest audio and video systems to fit your vehicle with the entertainment system you've been dreaming of – a great way to keep your kids occupied during those long drives by the way. Tint World can help you pick out the perfect system that satisfies your needs and budget.

With the weather shaping up and the waters getting warmer, maybe you're considering taking the boat out for a cruise. Tint World's marine services let you make the most of your time on the boat with fun accessories like boat window tinting, fun audio and video upgrades, detailing services, and even wraps and graphics to give your vessel a custom styled look.

Give your vehicle a fresh start for spring; come into your local Tint World for professional detailing, tinting, and other automotive service.