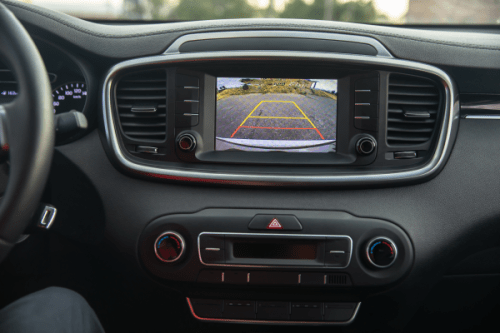 The Advanced Driver Assistance industry moves fast, so making sure your vehicle stays up to date on the latest systems shouldn't just be a matter of style.
With the all of the latest products coming to market, Tint World® Automotive Styling Centers ™ stays ahead of the curve with their complete line of custom Advanced Driver Assistance systems. Get everything you need to protect you and your family on the road. Tint World® carries the latest dash cams, blind spot detection systems, backup cameras, park-assist systems, lane-detection systems, and even crash-avoidance systems – all professionally installed to provide you with peace of mind and confidence on the road.
With a full range of products from the leading security brands, expert certified installation, and nationwide warranty protection, Tint World® is the one-stop shop for automotive peace of mind.
Popular features include:
Backup cameras critically improve safety for drivers, passengers, pedestrians, and other vehicles.
Blind-spot detection technology relies on sensors to alert drivers of adjacent vehicles that may be difficult to see.
Collision warning systems can alert drivers of potential impacts based on speed and the distance between vehicles.
Dashcams can precisely log information and record details of an incident.
In addition to the leading products and services, drivers can rest assured that Tint World® Advanced Driver Assistance systems are installed with expert precision. With many of our technicians being Mobile Electronics Certified Professionals (MECP), they know all the latest features and installation techniques, ensuring your safety features are seamlessly integrated into your vehicle's operation.
Protect your family and your automotive investment. Find a local Tint World® Automotive Styling Center™ near you to learn more about the latest advanced driver assistance systems available!