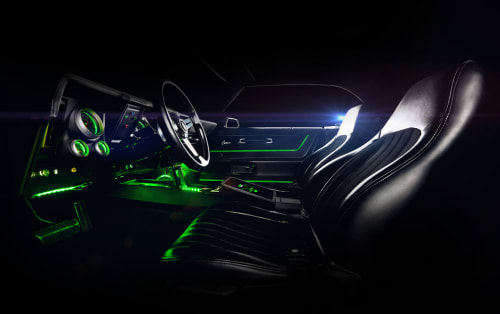 Most drivers immediately recognize why exterior vehicle lighting is important. Making sure you can see other vehicles – and that other drivers can see you – is a basic necessity for avoiding accidents at night.
But the right interior lighting setup for your car, truck, or SUV matters, too. And, with Tint World®'s full selection of industry-leading interior lighting services, you can discover the custom vehicle lighting package that works best for your needs.
The lighting inside a vehicle is an essential component of safe driving any time headlights are necessary. Rainy, dreary, or wintry conditions can limit outside visibility can also interfere with visibility inside a vehicle.
An optimized interior lighting system ensures that drivers can safely and accurately monitor their speedometer, fuel gauge, and other dashboard instruments. The right ambient lighting inside the vehicle also enhances a driver's orientation and spatial perception, which are crucial for maintaining proper speed, keeping a safe distance from other vehicles, and identifying potential road hazards.
In addition to safety and performance, getting the lighting inside your vehicle dialed-in can help improve your overall driving experience. Studies have shown that ambient lighting – available in a wide range of color combinations at Tint World® and able to be remotely managed by smartphone – can contribute to positive mood, alertness, and an increased perception of safety.
Too much interior light, however, can distract drivers or create glare. Finding the right interior lighting system depends on a range of factors, so it's important to consult trained experts like Tint World®'s professional lighting technicians to ensure the perfect balance.
To learn more about our interior lighting products and services, visit the Tint World® Automotive Styling Center™ near you.