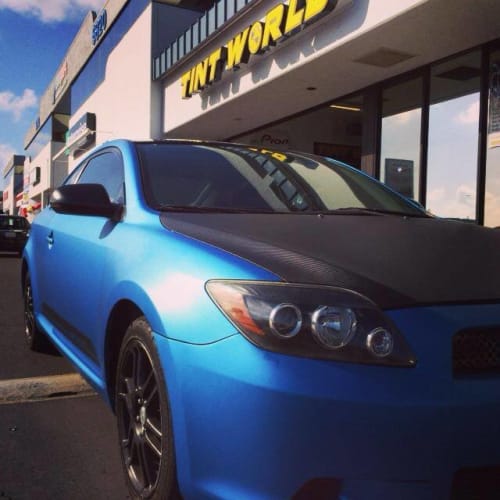 You probably wrapped a good amount of gifts this holiday season, but did you also know that Tint World® provides vehicle wraps and graphics. This is one gift you won't want to unwrap once you see the amazing results. Whether you're looking to personalize your ride or advertise your business, Tint World® can take care of everything including design, printing, and installation. We use only top of the line printers and installers to give you a vehicle wrap that you will absolutely love and will look like a high-end paint job – without the price tag.

If you're looking to turn heads when you're out on the road and impress your friends, you might be interested in a color change wrap from Tint World®. Matte wraps have been growing in popularity recently, and the possibilities for customization are endless. They give your car a custom paint effect and are available in many different materials and finishes including carbon fiber, brushed metal, satin, glossy, matte, and more. You can also combine materials and finishes for an extra "wow" factor when you're driving around town. The material can be applied and removed without damage to your vehicle, so you can change your look as often as you change your mind.
vehicle wrap will provide the greatest return on your marketing investment. No other form of advertising will give you thousands of impressions everyday, for years to come. With proper care, a vehicle wrap will last up to 5-6 years, which means you only pay once but will benefit from your investment for years. When you're not using your vehicle, leave it in a high traffic area or community event for even more exposure for your business. A vehicle wrap will turn your car into a moving billboard, and you will start getting noticed the day you pick it up.

Tint World® can also customize your ride with custom decals, pinstripes and interior details using vehicle graphic material. Sports cars look great with a wrapped roof and hood, and every muscle car needs racing stripes. Some people opt to just give their vehicle a few accents by wrapping the bumper and side mirrors for a more subtle effect. We can also wrap everything from golf carts to motorcycles to yachts. If you can imagine it, Tint World® can implement it.

For more information on vehicle wraps and graphics, visit your local Tint World® or call for a free quote.