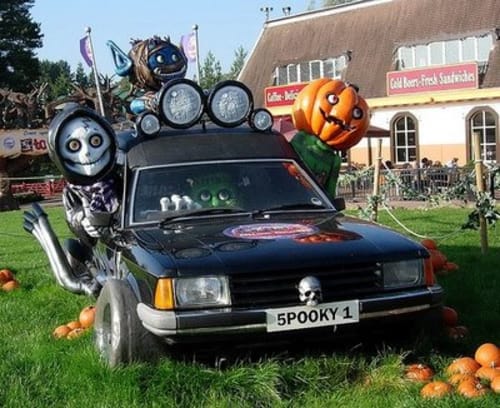 October 31st is fast approaching, and this Halloween we're celebrating the holiday in our usual fashion – by offering you great deals on the most popular Tint World® products and services! This Halloween's promotion's don't appear particularly sinister, but we are offering some killer deals on some products that, with a little creativity, are great for enjoying this spookiest day of the year. Read on to learn more about our current Halloween promotions and the ways you can use each product to unleash the little monster within.

Pioneer Touchscreen Receivers
There's no better way to blast Thriller or Monster Mash than through these CD / DVD enabled touchscreen audio receivers from Pioneer. With added features like Social Media integration and GPS you can update your Facebook status to "pumpkin carving" and get turn-by-turn directions to the Halloween party all from your car. Pick one up at Tint World® for ultimate Halloween convenience for a price that is eerily low. Click for Printable Coupons

Tint World® Automotive Window Tinting
Nothing says dark and mysterious like a set of tinted windows, and no one tints windows like Tint World®. With computer-cut technology, we slice window film into full pieces according to our vehicle database, so come to Tint World® for a special discount on professional window tinting with a perfect fit. Then, wear your favorite Dracula costume to the drive-through and keep the windows up until the employee goes to hand you your strawberry shake with extra ketchup. Click for Printable Coupons

Viper Car Alarms and Car Remotes
You can also swing by Tint World® this week for up to $200 savings on Viper car alarm systems and car remotes. Viper products add convenience and peace of mind with their car security products, but they're also pretty effective for Halloween spooking in the right hands. The Viper remotes come with an alarm-triggering panic button which can easily become a spook button if your car is parked nearby some unsuspecting trick or treat-ers with a mannequin positioned in the driver's seat.Click for Printable Coupons

Those are just a few ways you can use Tint World® products to upgrade your vehicle and your Halloween this October. Deals only last until Halloween day so you better get here quick and Check out our Halloween Sale before these deals are banished forever.

In the meantime, leave us a comment telling us how you got creative with your car or truck this Halloween.