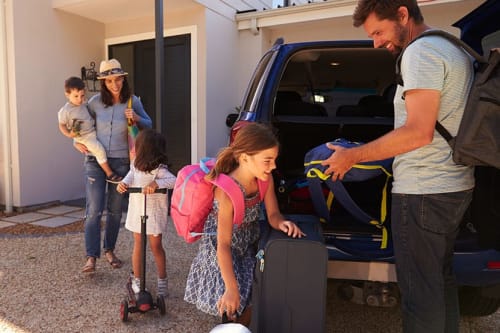 From basic engine checks to state-of-the-art navigation, we're here for road warriors
It's almost summer! Time to think about throwing the kids, dog and second-hand luggage in the old woodie for a good old-fashioned ROAD TRIP!!!
Wait. You can maybe manage something a little more stylish for your summer ride. But regardless, Tint World® is ready to help you hit the road for the best summer vacay ever. Here's a checklist of ways we can help smooth any bumps on the holiday road (Note: Not all Tint World locations provide this entire range of services).
Tires. Don't set off on half-inflated or threadbare tires. Tint World offers a range of tire services at most locations. Price them, order them and we'll send you on your way with a sure grip.
Engine. We are far from just a tint-centric shop. We can provide engine services such as oil changes, battery tests, and replacement and fluid checks. The hot interstate shoulder is no place to burn valuable vacation time.
Windshield wipers and headlights. The heaviest rain we ever encounter is while traveling 70 mph on a freeway. Good thing you got those tires checked, but we can also make sure your windshield wipers and headlights are up to very wet weather. Hopefully, the rain will clear before you reach the beach.
Navigation. Do you remember the last time you used a road map? We don't either. That's because navigation systems are standard these days. Avoid unwanted detours as you get away from it all. We have a range of the best navigation systems on the market today. Use your phone instead? No problem. We can install a phone cradle so you can keep your eyes on the road and hands on the wheel.
Entertainment. Replace the choruses of "Are we there yet?" with "What are we going to watch next?" We can install the latest video consoles and audio systems to ensure your backseat drivers are instead watching videos or playing games. You'll envy your passengers but will find some solace as you concentrate on the wide open road.
Start planning your getaway today. You deserve it. Contact Tint World® today so your local store can help you avoid the potholes that sometimes swallow us all.